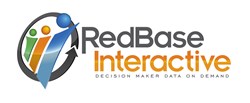 Houston, Texas (PRWEB) September 24, 2013
Red Base Interactive, the contact data division of SalesStaff LLC, today announced the newest addition to their management team, naming Eric Balzen to the position of Business Development Director. Red Base is a premier provider of B2B contact list development services with a variety of accurate decision-maker lists in their inventory of 30 million contacts. In his role, Eric will oversee much of the sales proficiency of Red Base. He will consult prospects and existing customers on aligning Red Base's accurate B2B decision-maker lists with the customer's prospect base.
In addition, Eric will spearhead the sales progress of Red Base's newest line of products – SmartData contact lists. SmartData features contacts at companies that utilize specific technology solutions, such as Salesforce.com, Oracle, SAP, Microsoft Sharepoint,and 1000 more. The SmartData product is a perfect fit for consulting organizations or organizations that feature technology upgrades or add-ons for a specific installed technology. Eric's skill set features a unique blend of Information Technology expertise and overall sales prowess which makes him an excellent fit for execution of business development activity around technology list offerings.
Red Base Interactive has gained significant traction as a top vendor of B2B contact lists to fuel any marketing campaign. With over 30 million contacts in their database, Red Base retains an inventory of several cost-effective, pre-packaged contact lists, including decision-makers with titles in Sales & Marketing, Information Technology, C-Level Executives, Higher Education, and others. Boasting numerous Fortune 500 companies as clients, Red Base has been a go-to leader in the B2B contact data marketplace and Eric Balzen looks to continue that trend.
About Red Base Interactive LLC
The primary focus of Red Base Interactive is to provide accurate contact information for today's key leaders and Decision-Makers with C-Level, VP-Level, and Director-Level titles. For many years, Red Base Interactive has provided a comprehensive solution to marketing executives that allows them to connect with a relevant audience. For more information, visit http://www.RedBaseInteractive.com or contact by phone 877-469-1503 or by email info@Red Baseinteractive.com.
About SalesStaff
SalesStaff is a premier provider of appointment setting and demand generation services for business-to-business companies. For more information, visit http://www.prosalesstaff.com or contact by phone 888-591-8022 Ext. 333. To schedule an interview with CEO, David Balzen, please contact 888-591-8022 or by email at info(at)prosalesstaff(dot)com.
###