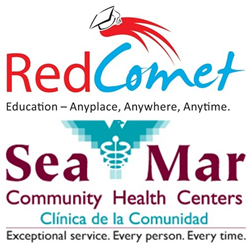 PROSSER, Wash. (PRWEB) September 28, 2018
Red Comet is partnering with Sea Mar to offer an avenue for students under the age of 21 to earn credits and complete their high school diploma in Washington State. Red Comet's Alternative Learning Education program helps students earn high school credits using an asynchronous, self-paced online learning environment.
Every year, nearly 1.2 million students drop out of school before they graduate with a high school diploma. Family economic situation is one of the main causes for students dropping out of high school. To address the national dropout crisis, Red Comet -Sea Mar partnership offers an avenue for students under the age of 21 to earn credits and complete their high school diploma from anywhere and anytime. The student can login and study at any time and from anywhere – home, school, library etc. With the reach Sea Mar has to low income communities in WA State, there is opportunity to educate parents on the value of keeping their children in school. Since the program is funded by the State of Washington, there is no cost to the student to enroll in the program.
Red Comet is a Fully Accredited (NWAC, AdvancED) organization that has been offering online courses for credit since 1999. Students have over 175 courses to choose from. Many of these courses are also approved by the NCAA organization and our Advanced Placement (AP) courses are approved by the College Board. In a statewide survey in Washington State, Red Comet received high ratings for student satisfaction. Students use the Red Comet online program for original credit, credit retrieval, and credit recovery.
Sea Mar Community Health Centers, founded in 1978, is a community-based organization committed to providing quality, comprehensive health, human, housing, educational and cultural services to diverse communities, specializing in service to Latinos in Washington state. Sea Mar proudly serves all persons without regard to race, ethnicity, immigration status, gender, or sexual orientation, and regardless of ability to pay for services. Sea Mar's network of services includes more than 90 medical, dental, and behavioral health clinics and a wide variety of nutritional, social, and educational services.
For Immediate Release
Contact Information:
Dr Jay Srinivasan
Managing Director,
Red Comet