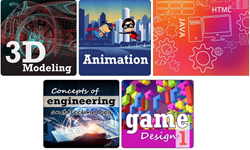 (PRWEB) September 26, 2018
Red Comet is introducing several new high school courses that are geared to help students prepare for a career in technology and design.
Many analysts predict that when it comes to future careers, the highest growth would be in the area of technology and design. The predictions also unfortunately forecast that several of these future jobs would go unfulfilled for lack of qualified candidates. Getting prepared for careers in technology can be a huge benefit for high school students and can give them an edge over their peers when it comes to the future job market.
Beginning September, Red Comet is launching several courses related to various areas in technology. The course '3D Modeling' introduces the student to the world of 3D design while the course on 'Animation' teaches students to create movement in a 2D space. 'Coding' covers the fundamentals of computer science – including software and hardware essentials. Students with a passion for games and coding can create a virtual world of their own in 'Game Design'. In 'Concepts of Engineering and Technology', students learn more about engineering and technology careers and the skills and knowledge they will need to succeed in these fields. They will explore innovative and cutting-edge projects that are changing the world we live in and understand the emerging issues in this exciting career field.
Red Comet is a Fully Accredited (NWAC, AdvancED) organization that has been offering online courses for credit since 1999. Students have over 175 courses to choose from. Many of these courses are also approved by the NCAA organization. In the State of Washington, the Office of Superintendent of Public Instruction (OSPI) has approved the Red Comet program as a "Multi-District Online Provider," "Online Course Provider," and "Online School Program." In a statewide survey, Red Comet received high ratings for student satisfaction. Students use the Red Comet online program for original credit, credit retrieval, and credit recovery.
Red Comet curriculum is also approved by the Arkansas Department of Education to fulfil digital course requirement under Act 1280.
For Immediate Release
Contact Information:
Dr Jay Srinivasan
Managing Director
Red Comet