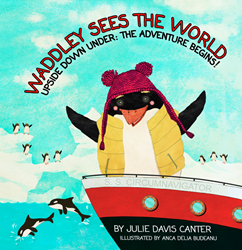 We are committed to bringing readers engaging series by accomplished authors," said Micky Hyman, Publisher of Red Sky Presents, "so we are proud to launch "Waddley Sees the World," a series that is fun to read, while teaching kids to explore their world.
New York, NY (PRWEB) December 18, 2013
Red Sky Presents, the publishing imprint of Red Sky Entertainment, announces the release of an original book series for children -- "Waddley Sees The World" -- by Julie Davis Canter. The series is available on Amazon and Barnes & Noble, and will be available on iTunes in January.
"Upside Down Under: The Adventure Begins!" -- the first release in the "Waddley Sees The World" series -- chronicles the adventures of Waddley, a penguin who leaves Antarctica aboard a cruise ship to travel the world. Each subsequent book will feature Waddley, and the two young children who befriend him, at a new exotic destination, combining fun and adventure with geography and history. Author Julie Davis Canter has written more than 18 books for the juvenile market.
Also slated for release this week by Red Sky Presents is "The Australian File," the third book in the "Penn Gwinn Series," which features international intrigue from veteran author Harold K. Miller. "The Australian File" follows Private Investigator Penn Gwinn, from California to Mexico to Australia, as he hunts down a legendary opal called the Aqualene, known to Australian Aborigines as "The Eye of God." It is the third eBook in the Penn Gwinn Series that Red Sky Presents has released, following "Thai Moon Saloon" and "The Philippine File." The next eBooks in the Penn Gwinn Series will be released in 2014.
About Red Sky Presents
Red Sky Presents, the publishing imprint of Red Sky Entertainment, develops and publishes eBook and Print-on-Demand series' from accomplished authors. Red Sky Entertainment creates, develops and markets family entertainment properties and develops them for film, television, digital media, and merchandising. More information on Red Sky Presents is available here: http://www.redskypresents.com/.
###