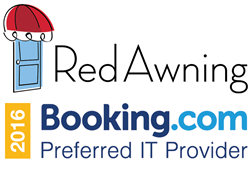 We look forward to continuing to expand our partnership ... to maximize reservations for our managers, and ultimately make vacation rental booking easier, safer and more consistent for millions of vacation rental-seekers on Booking.com.
(PRWEB) November 18, 2016
RedAwning.com, the world's largest network of branded vacation properties, is pleased to announce that it has received full certification on Booking.com's recently announced content API for the fastest and most accurate delivery of new properties to Booking.com, the world leader in booking accommodations.
In addition to full certification on the content API, RedAwning has also been awarded Preferred IT Provider status by Booking.com. The Preferred Provider program identifies channel partners and suppliers who provide consistently excellent service and support, and who can be confidently recommended to property managers seeking connectivity, as well as to customers seeking vacation rentals on Booking.com.
"We are thrilled to get this distinguishing endorsement," said RedAwning CEO Tim Choate. "RedAwning was in the select group of early users who underwent a successful round of beta testing for the API earlier this year and this recognition confirms that our teams share the goal of being at the forefront of innovation, technology and service in the vacation rental industry. We are delighted with our massive growth working with Booking.com and we look forward to continuing to expand our partnership to maximize reservations for our property owners and managers, and ultimately make vacation rental booking easier, safer and more consistent for millions of vacation rental-seekers on Booking.com."
Since receiving Booking.com's first certified content API in August of this year, RedAwning has been able to accelerate the loading and delivery of vacation rental content to Booking.com, allowing property managers to go live on Booking.com within hours of going live on RedAwning.com. Changes to content, photos, and updates to calendars, go into effect automatically on Booking.com, significantly reducing the risk of lost bookings and double bookings due to inaccurate or delayed data.
RedAwning is not only a one-stop connectivity provider to Booking.com, but it is also the only complete solution for distribution, reservations and channel management for property managers and owners. RedAwning provides 24X7 reservation and guest support, full contracts management, credit card decline handling, payment processing, and value-added, pre- and post-stay guest resolution support with each booking. Property managers using RedAwning to connect to Booking.com can expect significantly more reservations with significantly less complexity, costs, and work. While their guests can expect one efficient, more standardized, booking experience.
For more full information on RedAwning's one-stop, full-service solution for marketing and connectivity to Booking.com, please contact the VP of Business Development, Sean Raftree at sean.raftree(at)redawning(dot)com
###ENDS###
ABOUT REDAWNING
RedAwning.com, Inc. is the largest branded network of vacation rental properties with over 100,000 properties in 10,000 destinations. Consumers seeking vacation homes, condos and apartments, can expect one booking experience over all the properties, including one standardized contract, 24X7 customer service at reservation time and stay, a 100% fraud guarantee, no prepaid security deposits, and other value-added benefits. RedAwning is also the largest branded supplier of vacation rental properties to most major online booking channels, including Airbnb, Booking.com, Expedia, HomeAway/VRBO, and Flipkey/TripAdvisor. Property managers and owners get the world's only complete solution for marketing, reservation and channel management of their properties. With one single contract, RedAwning provides full integration and distribution on every major online channel, complete customer service and payment processing on every channel, and listing optimization and analysis on every channel for maximum reservations. In May 2015, RedAwning acquired PerfectPlaces.com and TravelProRentals.com, a complete vacation rental booking platform for travel professionals, further expanding its stable of exclusive marketing opportunities for property managers.
ABOUT BOOKING.COM
Booking.com, a part of The Priceline Group, is the world leader in booking hotel and other accommodations online. The Booking.com website is available in 42 languages, offers over 1M hotels and accommodations including more than 520,000 vacation rental properties and covers over 96,000 destinations in 227 countries and territories worldwide.