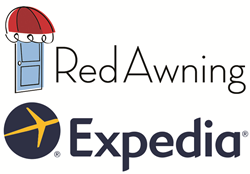 EMERYVILLE, CA (PRWEB) July 13, 2016
RedAwning.com, the only one stop reservations and channel management solution for property owners and managers, has announced that it now has an instant live connection with the Expedia, Inc., the world's largest online travel company with localized sites in more than 75 countries including leading online travel brands Expedia.com®, Hotels.com®, Orbitz®, Travelocity®, and Venere®.
The connection with Expedia boosts the RedAwning advertising network, and makes it significantly easier for property owners and managers to gain global exposure on many major website channels. RedAwning.com is the only solution in the industry which enables property owners and managers to instantly reach every major online marketing channel with a single contract and a single full-service connection.
"We are very pleased to add Expedia to our industry-leading vacation rental advertising network," said Tim Choate, CEO of RedAwning.com. "This direct connection completes our powerful ad network to include every major website channel that exists for vacation rental marketing. We look forward to the vast opportunities this partnership offers for the entire travel industry."
Along with its comprehensive channel connections, RedAwning offers full-service benefits for property managers and owners including expertise in listing optimization, 24x7 lead response, full contracts management, and payment processing. There is no cost for managers and owners to join and gain access to this full-service solution and network; RedAwning only charges a small commission on completed reservations.
RedAwning and Expedia have been testing their connection for the past six months with the first batch of test properties going live on Expedia in late January. Property managers included in the test group for connection saw reservations within the first few days of going live.
"We are looking forward to a very strong relationship with Expedia going forward," said Miyaka Cochrane, Director of Channel Marketing. "RedAwning is on target to have over 6,000 properties live by the end of July with a plan to roll out tens of thousands in the months to come. Our respective teams share the focus and drive for success."
"The benefits of RedAwning's connection to Expedia cannot be overestimated," said Sean Raftree, Vice President of Business Development at RedAwning.com. "Managers will get more exposure and more reservations with none of the extra work involved. It frees them up to increase their own inventory acquisitions -- and that gives each one of us opportunities for more growth."
For more information on RedAwning's one-stop solution for reservations and channel management, visit: https://www.redawning.com/list/propertymanagers
_____________________________________________________________________________________________________
ABOUT REDAWNING
RedAwning.com, Inc. is the leader in hotel-style reservations for the vacation rental industry and the only one-stop complete reservations and channel management solution for property managers and owners. With one integration, one connection, one contract, and one commission, RedAwning offers property managers and owners the fastest, easiest connection to the most extensive marketing network in the industry, including Expedia, Inc., Booking.com and the Priceline Group Network, Airbnb, Flipkey, TripAdvisor, VRBO and the HomeAway Network. The RedAwning solution incorporates a multitude of unique services to managers including key level exposure for all units, 24x7 lead response, renter customer service support and complete reservations and payments management. In May 2015, RedAwning also acquired PerfectPlaces.com and TravelProRentals, a complete vacation rental booking platform for travel professionals, further expanding its stable of marketing opportunities for property managers and owners.