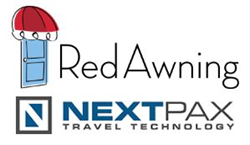 Emeryville, CA (PRWEB) August 10, 2016
RedAwning.com, the only one-stop solution for complete reservations and channel management in the vacation rental industry, is happy to announce that it has partnered with NextPax Travel Technology to bring property owners, managers and agents using NextPax software the seamless ability to publish their properties on the largest network in the world and get the benefit of RedAwning's full-service marketing and reservations solution.
Clients using the NextPax vacation rental system can now easily, efficiently, and effectively access every major travel website in the world with one contract and one relationship with RedAwning.com. Plus, clients benefit from further exposure on RedAwning's exclusive proprietary network, including RedAwning.com, PerfectPlaces.com and the company's booking portal for travel professionals, TravelProRentals.com
RedAwning is the only US supplier authorized to provide this powerful global distribution on all major channels using a one contract, one connection approach. Property managers sign one contract with RedAwning and get full distribution without having to sign any further contracts, or pay any separate channel fees or commissions. Managers can expect to go live on all major channels within weeks of connecting to RedAwning.
Once live, property managers leverage RedAwning's full service management capabilities on each channel at no extra cost. RedAwning's complete solution includes optimizing every listing for higher ranking, responding to leads and inquiries 24/7 to increase conversion, and processing payments to deliver only completed bookings to property owners and managers.
"We are excited about the enormous potential of partnering with NextPax Travel Technology," says Sean Raftree, Vice President of Business Development at RedAwning. "We've proven we can triple bookings in many markets on every channel and expect NextPax clients to see fantastic results," said Sean.
"RedAwning is a one-stop, one-of-a-kind solution for property managers," adds CEO of RedAwning, Tim Choate. "As the number one supplier of properties to all the major websites, we have the scale, expertise and technology to get listings live faster than any other supplier out there. Combine our fast connections to the largest network with our service and booking support on on every channel, and NextPax users can expect tremendous success with every listing on RedAwning."
NextPax CEO Erik Engel adds: "For us it's a clear case of doing what NextPax does best: providing seamless, real-time connectivity between systems and optimizing the dataflow of supply and demand. RedAwning fits our partner profile perfectly and we are proud to be working with a company of such stature."
Vacation rental owners and property managers interested in finding out more about RedAwning can contact RedAwning at https://www.redawning.com/list/propertymanagers
To find out more about NextPax Travel Technology visit: http://www.nextpax.com/
_____________________________________________________________________________________________________
ABOUT REDAWNING
RedAwning.com, Inc. is the leader in hotel-style reservations for the vacation rental industry and the only one-stop complete reservations and channel management solution for property managers and owners. With one integration, one connection, one contract, and one commission, RedAwning offers property managers and owners the fastest, easiest connection to the most extensive marketing network in the industry, including Expedia, Inc., Booking.com and the Priceline Group Network, Airbnb, Flipkey, TripAdvisor, VRBO and the HomeAway Network. The RedAwning solution incorporates a multitude of unique services to managers including key level exposure for all units, 24x7 lead response, renter customer service support and complete reservations and payments management. In May 2015, RedAwning also acquired PerfectPlaces.com and TravelProRentals, a complete vacation rental booking platform for travel professionals, further expanding its stable of marketing opportunities for property managers and owners.
ABOUT NEXTPAX TRAVEL TECHNOLOGY
Offering over 300,000 available properties, NextPax is a global player in the online vacation rental industry. NextPax is the developer and supplier of PaxGenerator GDS, the leading vacation rental platform, seamlessly connecting property managers to channel partners. PaxGenerator GDS delivers real-time information on availability and prices, and on-line bookable accommodations, guaranteeing rate and inventory parity. At Nextpax, customers are always the main focus. Strengths of NextPax are the advanced distribution platform (Channel Manager), the result driven technical professionals and the widespread international network.