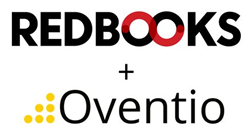 New York, NY (PRWEB) July 17, 2015
REDBOOKS, a global leader in sales prospecting and lead generation technology, today announced that it has entered into a definitive agreement to acquire Oventio, a leading data provider of conference and industry data related to speakers, speeches, and more.
The acquisition bolsters REDBOOKS' emerging prominence in the sales intelligence space that was recently affirmed by the 2015 SIIA CODiE Award for Best Lead Generation Solution. Founded in 2011 in Princeton, NJ, Oventio's platform allows clients to hyper-target their prospects based on insights generated from conference speeches and sponsorships, leading to dramatically improved lead generation success rates.
"The acquisition allows us to further build our capabilities in the rapidly evolving sales intelligence domain," said Paul Sethi, CEO of REDBOOKS, "and we are excited about incorporating both the technology and key members of the team." As part of the acquisition, Atul Sood, Founder and CEO of Oventio, will join the REDBOOKS Board.
After being spun out of LexisNexis in 2010, and effectively serving the needs of salespeople targeting companies, brands and agencies, REDBOOKS is doubling down on its efforts as an innovation powerhouse in sales intelligence. Recent moves REDBOOKS has made include hiring deep, senior technical talent and reinvesting in the machine learning aspects of its technology.
"REDBOOKS is the perfect long-term home for Oventio," said Sood, "The leadership team is strong, the products are state-of-the-art and constantly evolving, and the market opportunity continues to grow". Oventio Co-founder, Uday Kumar, added, "We're excited to partner with REDBOOKS to expose our technology to a wider audience and continue to innovate in the sales intelligence industry." The Oventio technology platform and existing data set will be folded into the REDBOOKS architecture.
Sameer Jagetia, Chairman and President of REDBOOKS, indicated more strategic initiatives may be underway. "The acquisition of Oventio," he said, "and Atul's addition to the Board, are part of a longer-term roadmap focused on our commitment to the space and to develop REDBOOKS into the world-leading sales intelligence platform".
About RED BOOKS LLC (REDBOOKS)
REDBOOKS is an information services and technology company based in New York, NY, with two main divisions: the premier lead generation and competitive intelligence tool used by companies, publishers, agencies and marketers globally (http://www.redbooks.com); and a technology division, focused on advanced machine learning and natural language processing, currently used by leading information services companies.
If you are in New Business, Sales, Partnerships – REDBOOKS is the resource used by thousands like you to prospect smarter and close business faster, reducing sales conversions ratios from 100:1 to as close to 1:1.
Formerly a division of LexisNexis, REDBOOKS was spun off as an independent company in 2010.
Red Books LLC's properties include REDBOOKS, ROBUZZ, and Oventio.
###