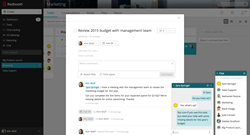 "We've seen demand grow steadily for an on-site software install that packs the core features and functions of our web-based offering while allowing companies to run it behind their own firewall, which prompted Redbooth Private Cloud," Schoenbaum said.
Redwood City, CA (PRWEB) February 11, 2015
Redbooth, the real-time workplace collaboration and communication platform, today announced the launch of the company's latest in secure enterprise solutions, Private Cloud. Redbooth brings the proven functionality and productivity benefits of web-based collaboration utilized by over 6,000 customers worldwide to companies that prefer to host the platform on their own corporate networks. Redbooth Private Cloud provides secure enterprise chat, user access provisioning, team collaboration, project management, and business application integration that meet the particular compliance, security, and data privacy requirements of large corporations and highly regulated industries, such as healthcare and finance.
"We constantly hear from our customers that Redbooth has improved productivity, reduced email overload, and driven company-wide collaboration," says Dan Schoenbaum, CEO of Redbooth. "Previously, we've offered on-premise by request, and have seen demand grow steadily for an on-site software install that packs the core features and functions of our web-based offering while allowing companies to run it behind their own firewall, which prompted this release of Redbooth Private Cloud."
With Private Cloud, Redbooth has integrated on-premise enterprise-grade encrypted chat to make communicating between colleagues easier. Now, employees can instantly collaborate one-on-one in private chat, or teams can use project rooms to discuss with all team members, enabling colleagues to communicate in real time within Redbooth. Furthermore, with the entire company on the platform, teams and company leaders can rapidly improve productivity and accountability, accelerate onboarding, and increase the velocity of decision-making.
"For 1st Franklin Financial, we needed a secure on-premise solution that would deliver the collaboration and organization our departments across several states needed, and we found that with Redbooth," said Ginger Herring, President of 1st Franklin Financial. "In addition to the project management capabilities the platform provides, we're looking forward to exploring how the new secure enterprise chat feature set can further benefit our teams."
Security and privacy are major concerns for companies who need to meet industry regulations and corporate compliance, so Private Cloud is built to work behind enterprise firewalls with seamless integration of multiple applications often used by Redbooth customers, including Box, Microsoft Sharepoint, Project, and Outlook, along with popular authentication and directory systems such as LDAP and Active Directory. Redbooth partnered with Okta to offer enterprise-grade security, audit capabilities and identity management to ensure Private Cloud meets HIPAA, EU Data Privacy, Sarbanes-Oxley, PCI, GLBA, corporate SLAs and corporate security standards.
"Compliance and data privacy assurance are critical to any company in the healthcare industry, which means we need to be highly selective about the applications we use," says Ken Coburn, MD, CEO of Health Quality Partners. "Redbooth Private Cloud makes it possible for us to pass our security audits and keep our data under our own control behind our firewall."
Redbooth Private Cloud makes it simple for IT administrators to bring Redbooth on board. Administrators have full control over the installation, data storage, and security when run behind the firewall, ensuring that the company is fully compliant with privacy and security policies. Redbooth Private Cloud can be installed on standard hypervisors from VMware, Red Hat, IBM, Oracle, VirtualBox, KVM/QEMU, Microsoft (HyperV) and Citrix (XenServer), and is pre-integrated with common enterprise directory servers to streamline deployment.
"With our cloud-based solution, we've been the system administrator – which enables teams to get right down to business at sign-up. Now, we are handing system administration over to the enterprise IT department to configure, onboard users, and control the company data – all from an easy-to-use dashboard. We worked hard to make the experience just as easy for admins as it is for users," adds Schoenbaum.
"Though the market for social business tools has quickly grown, there has been a void for full-featured work management and unified communication platforms that meet enterprise needs in a seamless way – despite recent attempts of new entrants to bolt on popular features like screen share and chat," says Alan Pelz-Sharpe, Research Director for Social Business at 451 Research. "Until now, many companies have been forced to adapt their use of existing tools to meet security requirements, even if they lacked key features. There is a huge opportunity for those who can combine enterprise-level security with a tightly integrated feature set that IT administrators can easily control behind the firewall, and extend into mission critical business applications where the work is getting done."
Redbooth Private Cloud is now available. For more information about the on-premise installation or the ROI measures of Redbooth, visit https://redbooth.com/private-cloud/ and explore the in-depth product documentation.
About Redbooth
Redbooth is the award-winning platform that empowers teams and companies to collaborate, communicate in real time, and achieve breakthrough productivity. Redbooth is used by more than 6,000 companies across the globe to transform the way they work, including Al Jazeera, App Annie, Deutsche Telekom, eBay, Harvard University, Nvidia, the Red Cross, ReMax, Spotify, Thomson Reuters, Volkswagen Audi, Warner Brothers and Western Digital. Founded in Barcelona in 2008, the company is privately held and headquartered in Redwood City, California. For more information about Redbooth and a free trial, visit http://www.redbooth.com