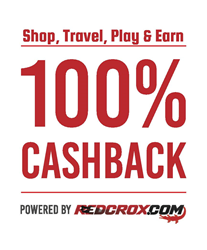 It's Not Disruption, It's a Revolution.
Memphis, TN (PRWEB) June 10, 2016
RedCrox.com, a European-based global shopping platform with more than 500 shopping partners and over a half million users, announces its global launch in the U.S., Canada and the U.K., as well as in India, Russia, and Germany. The online retail shopping site has fused sports guessing with a 100% cashback trigger. With operations in Paris, Berlin, and Prague, the company's global launch will include several high-profile sports, celebrities, and investor-related events throughout the U.S., London, and France. RedCrox provides shoppers with an opportunity to play their receipts on the result of a sports event and have the chance to gain 100% cashback on a current purchase. Following a successful first round of fundraising with seed investments from French private equity firm Ott Partners, RedCrox.com is focused on "Shop, play, and cash back" to draw new shoppers and retail partners.
"The RedCrox.com founders and the team are excited about the global expansion. I want to leverage my background in sports management and creating online platforms in a way that makes shopping and sports more entertaining and fun for everyone," said Stephen Flanagan, Founder and CEO of RedCrox.com and COO of the European-based backed private equity firm. Flanagan's world has always combined sports and online platforms. At a young age, he created one of the first prototypes of today's modern fantasy sports. That later led to the launch of his first online venture in gaming more than 20 years ago. "Now, RedCrox.com marks the ultimate game, a game where both sides win," said Flanagan.
RedCrox.com name stems from the social adaptability of the crocodiles. "Today's shoppers are always on the hunt for the best deal, playful in the hunt, and ready to snap when they find it. We feel like this represents today's shopping behaviors," he goes on to say. Flanagan is also a self-professed fan of the Liverpool Football Club, also known as the "Reds."
A crowdfunding campaign to support the launch is set to go live on July 5th. The crowdfunding campaign will bring awareness to the online brand as well as provide backers with an introduction on how to use the site to earn cash back and other perks. RedCrox.com will officially launch in the U.S. in Los Angeles during the ESPYs, the week of July 10th-July 14th, with a private event for investors, celebrities, athletes, musicians, celebrity brand ambassadors, partners, sponsors, and select top-tier media. Top-level perks include luxury European trips, tickets to the Olympics in Rio de Janeiro, diamond jewelry from major shopping partners such as Alo Diamonds and tickets to major concert events. Additional events will include sponsorship of major sporting events, fashion platforms, and awards shows.
U.S.-based PR and marketing firm Royal Kingdom PR Agency has been tapped as the global public relations Agency of record, led by PR powerhouse and marketing executive Shay Brown. "I'm extremely grateful, humbled, and excited for the opportunity to work with such a prestigious and well-respected group of professionals," Brown said. "Stephen (Flanagan) has been phenomenal to work with side by side. We are excited about a long working relationship." Royal Kingdom PR will lead all aspects of publicity, marketing, social and digital media, event management, sponsorship, and crowdfunding activities for RedCrox.com.
For more information or to sign up for a free membership, visit http://www.redcrox.com. For press, media, and sponsorship inquiries, contact Shay Brown at shay(at)royalkingdomagency(dot)net or call 901.800.9544.
About RedCrox.com
Founded in 2014, the European-based startup RedCrox.com, a global shopping platform with more than 500 shopping partners and operations in half a dozen countries, is expanding its footprint. RedCrox.com is a synergetic mix of shopping and gaming where consumers can win what they buy by selecting the winners of various events containing mostly sports. More than half a million users have already registered using their receipts, granting them the opportunity to guess the winners of current sporting events—and if they guess correctly, they receive 100 percent cash back on that purchase. For consumers, RedCrox.com is a game without risk; for merchants, it's a marketing tool, helping them to sell more products. Changing the way a person shops, it's not disruption, it's a revolution. Visit http://www.redcrox.com to learn more or to sign up for a free membership.