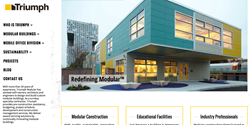 We updated our website to be in keeping with the latest trends in web design. At Triumph Modular we pride ourselves on innovation and continual improvement and we think our refreshed website reflects that commitment.
Littleton, MA (PRWEB) July 28, 2015
The Triumph Modular, Redefining Modular™ site offers a fresh look, user-friendly navigation, portal to access industry practices, consumer education, resource library, floor plans, educational blog and wide use of imagery. The Design Build Modular Blog has visitors from around the globe and offers regular posts with valuable links to useful reports by industry experts. Comments are welcomed and encouraged.
The goal of the design is to offer visitors an summarized way to learn about modular construction and relocatable spaces, by enabling them to browse information based on individual choices and offering an easy way to drill deeper into their particular areas of interest. This intuitive and interactive experience guides the visitor to knowledge about the modular industry. Using project photography to present case studies highlights Triumph's thirty-four years of experience.
The case studies detail a sampling of Triumph's building projects to date and outline the value created for clients as a result. Potential clients will find information on modular classrooms, buildings, offices and laboratories, they discover new ways to solve old problems.
Included in this industry resource is a state-of-the art responsive website featuring increased opportunities for the visitor to interact via a web chat feature when requesting information, downloading material, obtaining pricing and even tracking the delivery and pickup of mobile offices via real-time GPS services. Social media is integrated throughout the site to foster improved communication with clients. Updated site offers registration for CE credits for members of the American Institute of Architects (AIA) and recently published in-depth case studies. By using the latest technology is responsive web design and hosting platform the website is able to detect the visitor's screen size, orientation and change the layout according to device used. Content is continuously updated with helpful information, articles, blogs, company announcements and client success stories.
Triumph is a member of the Modular Building Institute, U.S. Green Building Council, Association of Independent Schools of New England, Council of Educational Facility Planners International and the International Facility Managers Association. Triumph is Redefining Modular™.
For any questions, suggestions, feedback or comments, please email us at lbee(at)triumphmodular(dot)com