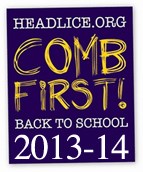 Changing the information or school policy on head lice will not change the biology of the louse.
Boston, MA (PRWEB) September 17, 2013
The National Pediculosis Association (NPA) celebrates 30 years of service this month. To extend its CombFirst! Campaign and National Head Lice Prevention Month, the NPA team put together some important warnings to assist parents seeking reliable information on lice treatment and prevention.
The NPA warns parents that too many head lice articles are actually marketing tools for products. The inaccurate or missing safety information can put children and entire families in jeopardy. Each child brings unique vulnerabilities to the treatment decision.
NPA's message is clear. The reliance on risky pesticides, inaccurate information and ineffective community control methods may keep kids in the classroom but it fails to protect children. The NPA's campaign supports a public health standard that is proactive rather than reactive – one that is truly precautionary.
By identifying some of the most common red flags in advance, parents will be better equipped to spot unreliable information shared on the internet.

Claims that head lice are a nuisance and not a health hazard for children.
The pesticidal treatment is the hazard. Both the person applying the treatment and the person being treated are at risk. Avoid directives that omit warnings of lice resistance and treatment health risks. Pesticides are never truly safe for children.

Head lice don't carry disease.
Pediculosis, the medical term for an infestation of lice, is itself a communicable disease. You can read more about the organisms these human parasites can carry here: http://www.headlice.org/news/research/index.htm.

Assurances that head lice are not a hygiene issue.
Parasitic blood sucking lice that infest, reproduce in one's hair and lay eggs next to one's scalp is a compelling hygiene issue for the people who have them.

Product marketing language often emphasizes a product's ability to kill lice and nits while downplaying the necessity for lice and nit removal. This is done to convey a sense of convenience to make the product appear less time-consuming, more user-friendly and superior to other methods. Look for entire absence of information on combing or instead discouraging words on nit removal such as "tedious" or "challenging." Fact is, if you don't get them out, you've still got them.

Promotions for "natural" or "non-toxic" products stated to be 100% safe and effective.
These may come with testimonials rather than a list of ingredients or independent scientific review of efficacy and safety. "Natural" does not guarantee nontoxic. Boasts of a product's ability to kill or repel lice are pesticide claims.

Failure to offer a nonchemical alternative.
Advertising products with educational information should include warnings and alternatives for those more vulnerable to chemicals such as pregnant women, nursing mothers, and those with allergies, cancer, asthma, taking medications or earlier and repeated chemical lice treatment exposures. http://www.headlice.org/downloads/whynonchem.pdf.

Recommendations that provide images of plastic cradle cap combs also referred to as fine-toothed combs.
This particular comb design is ineffective for pediculosis and can lead to frustration and sometimes desperate measures. While sometimes lice combs are referred to as fine-toothed, the term can be misleading. Be sure to look for a quality lice and nit removal comb.

Information insisting that nit removal is unnecessary because nits do not move from child to child.
Evidence-based reality: Nits are lice eggs glued to the hair to protect their ability to hatch new lice. Nits hatch new lice that feed, mature, mate, continue infestations and move on to infest others. Changing the information or school policy on lice will not change the biology of the louse. http://www.headlice.org/downloads/nonitpolicy.htm
Head lice represent a public health problem best managed by accurately informed, empowered and proactive parents knowing how to screen, detect early and safely remove head lice and nits when there are fewer of them. The goal is for everyone to be informed in advance, avoid panic and send children to school lice and nit free. "Because it's not about lice, it's about kids."
Join The National Pediculosis Association in its mission to create a secure online community for sharing accurate information on lice prevention and treatment. Visit http://www.headlice.org and @TheLiceMeister on Twitter.
About The National Pediculosis Association:
The National Pediculosis Association®, Inc. (NPA) is a 501 c 3 non-profit volunteer organization, including scientific advisors dedicated to protecting children and their environment from the misuse and abuse of prescription and over-the-counter pesticide treatments for lice and scabies. Proceeds from the LiceMeister® comb allow the NPA to be self-sustaining and accomplish its mission. The NPA began its work in 1983.
About CombFirst!:
CombFirst! is the National Pediculosis Association's (NPA) 28th annual back-to-school National Head Lice Prevention Campaign. Initiated in 1985 with House Joint Resolution 223, September kicks off NPA's educational campaign to last the whole year long.