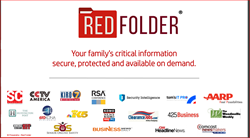 Red Folder is a virtual lock box for life's critical information
Woodinville, WA (PRWEB) October 28, 2015
Prevendra, today announced the signing of a sales agreement with Peritus Affinity Partners. Pertius is availing the Red Folder application to the many member organizations which rely on Pertius to provide to their members world class products and services.
To be able to step in and assist another, requires knowledge. Red Folder provides this knowledge.
How likely would one be able to locate, maintain or resolve the personal affairs of a family member or a friend who trusts them to assist, because they could not do it themselves? Look about, rare is the family who can easily access their or their extended family's (parents, grandparents, aunts/uncles, etc.) personal, social, and financial information should a life event mandate such?
The reality is most families (or individuals) don't have a secure single repository for all of their critical information. And the daunting task of locating or recreating thier personal or loved one's information without knowing where or if it exists has become problematic in today's digital age.
"I am pleased Peritus Affinity Partners will be offering Red Folder to their clientele. Their nationwide network of over 4.5 million companies and organizations will place Red Folder at the hands of millions of individual families via their eMembers Benefit Portal.," said Christopher Burgess, CEO Prevendra.
"Red Folder is a truly unique product. We are excited to be able to provide Red Folder to the many organizations and their members which we support," said Lucas McCann, partner Peritus Affinity Group. "Red Folder addresses a much needed requirement, which our constituency has been seeking to have us fill."
Red Folder is a virtual lock box for life's critical information. The highly secure cloud based repository stores all your digital assets, ranging from critical family documents and account information, to those irreplaceable images, video and digital memories. It is a highly secure application which is easy to navigate and available only to those who need it…when they need it.
About Red Folder:
Red Folder, where you and your family's critical information is secure, protected and always available.
About Prevendra:
Prevendra is a safety, security, privacy and intelligence entity, a leader in sharing knowledge and solutions which keep individuals and companies safe and secure, online and off. Established in 2013, the privately-held company is located Woodinville, Washington.
About Peritus Affinity Partners:
Peritus Affinity Partners is a Washington, DC area based company that provides turnkey member benefit programs to trade and professional associations and other organizations. Our continuously expanding network includes over 4.5 million companies with more than 20 million employees. We actively market our portfolio of products and services through their various associations and groups.