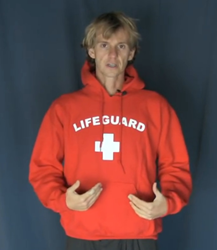 A great and comfortable fit, and highly visible
Los Angeles, CA (PRWEB) February 18, 2015
Just like any other outdoor profession, it is important to have proper attire for when cool weather hits. Especially since lifeguards are often times serving outdoors, it is extremely vital that a lifeguard has some type of cover up that allows them to still be identified by the public in the event of an emergency. Lifeguard Master has recently upgraded its sweatshirt hoodie that is made specifically for lifeguards while they serve their public in cooler environments. With this new upgrade, Lifeguard Master is now using white ink from International Coating. The new white ink is whiter and brighter making it easy to identify while keeping the lifeguard warm and comfortable inside.
This red lifeguard hoodie is a unisex pullover hooded sweatshirt that is crafted from 50 percent cotton and 50 percent polyester. The seamless body allows the quality printed word "LIFEGUARD" and white lifeguard cross to be bright and vibrant, even after multiple washes.
The base of the pullover hooded sweatshirt is a bright red with white lettering. The swetshirt has durable one-by-one ribbed cuffs and waistband with Spandex for excellent stretch and recovery. With two-needle coverseaming at the neck opening, armholes, shoulders, and waistband; not only is this lifeguard swetshirt extremely comfortable but durable as well. To view a video of this, please click on: Red Lifeguard Hoodie Video
The lifeguard sweatshirt is also available at a bulk discount. When trying to save a dollar and have a lot to spend, the bulk discount will help the wallet.
Whether a lifeguard is by the beach or by the pool, cool winds can distract a lifeguard. When a lifeguard is uncomfortable, it is not just a distraction but also puts the public at risk when a lifeguard is distracted. For this reason, it is essential that a lifeguard be prepared for cold weather or windy environments. The lifeguard hooded sweatshirt allows both comfort and professionalism.
"I ordered the hoodie sweatshirt for my son for a Christmas gift. It is a great quality sweatshirt and I am very impressed with the pricing and the shipping. It arrived after three days. I will definitely order more products," says Lisa from West Orange, New Jersey.
Smooth cuff construction allows for arms and wrists to stay comfortable throughout a shift. The hoodie features a double-lined hood with grommets and matching drawstring cord so lifeguards can cover their head and neck when needed. A front pouch pocket of the lifeguard hoodie allows the guard to store essential small supplies such as a key or pocket CPR mask.
With superior comfort in mind, Lifeguard Master chose this quality material featuring a double napped fleece, which provides a loftier and softer feel. With an increased stitch density for a better printing canvas, this lifeguard sweatshirt's white ink will continue to provide a vibrant and easy-to-read print so patrons of pools or beaches will know who to go to for help in an emergency.
Casey from Colorado Springs, Colorado says, "Today I received my extra-large red lifeguard hoodie. It was perfect. The hoodie is my reward for when I go back to Asia to finish up school to become an Open Water Scuba Instructor. I can't wear it until then. I worked [and taught as a] lifeguard in high school and I excelled during my Rescue Certification so I thought I would give myself something to remind me of where I started and why I love the water. Thanks very much!"
Whether a lifeguard is serving by the beach, ocean, or poolside, it is important for a lifeguard to be prepared for anything. A lifeguard sweatshirt with a cotton and polyester blend will maintain comfort, softness, and warmth wear after wear. The convenient pocket in the front of the hoodie allows lifeguards to keep convenient essentials with them no matter where they go while on watch. With quality stitching and printing this hoodie is made to last year after year and for multiple washes allowing for the base color and ink to maintain a brilliant and vibrant appearance.
Lifeguard Master has been in the emergency and life saving industry for many years. Sammy, the owner and founder of Lifeguard Master has been a lifeguard himself for 7 years. He knows the importance have having all the equipment readily available for a first responder, and through the years Lifeguard Master has become a robust lifeguard supply and lifeguard store company, accommodating the anticipating needs of first responders around the country and around the world. Lifeguard Masters determination to excellence and rescue safety has quickly made it a leader in its industry. For more information, please give us a call, send us an e-mail or visit our website. Also to stay updated with the latest news in emergency supplies, please visit our forum where rescue professionals from around the country and world stay connect, and post the latest emergency news at LifeguardsOnline.com.
Sammy
Lifeguard Master
(714) 605-3090
http://www.LifeguardMaster.com