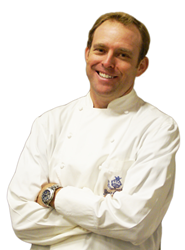 His accolades and experience is just what this hotel needs in order to deliver the best dining options in our community.
Lewiston, Idaho (PRWEB) February 26, 2014
The Red Lion Lewiston announced the appointment of Douglas Metzger, CEC as the Executive Chef last week. An award-winning, innovative Chef with an exceptional record of service and experience at internationally acclaimed establishments such as the Century Plaza and the Hotel Bel-Air, Doug brings an unmatched set of skills to the Food & Beverage program for the Red Lion Hotel's Banquet and Catering events, Meriwether's Steakhouse and MJ Barleyhoppers.
Chef Metzger is a graduate of the Westin Apprentice Program and has earned a certificate from the Ecole de Gastromie Francaise Ritz – Escoffier in Paris, France. He has trained under renowned Master Chef Raimund Hofmeister, CMC and was an award recipient of the Chaine des Rotisseurs in 1994, and named one of the "Best Chefs in Los Angeles" in 1995. Doug's culinary skills have earned him the opportunity to work with the world's top chefs and have taken his career across the globe.
Prior to joining the Red Lion Lewiston team, Chef Metzger served as the Executive Chef for both the Red Lion Port Angeles and the Red Lion Pasco. He also served as the Sous Chef for the acclaimed Hotel Bel-Air and as Executive Chef for the Sheraton Gateway overseeing two on-site restaurants and a full service banquet department for the 800+ room hotel. Chef Metzger has also had the opportunity to work with independent restaurants, where he served as Executive Chef for Schwartz Brothers Restaurants in Seattle. However, an entrepreneur at heart, Doug is the culinary inspiration behind both Fresbakery located in Seattle, Washington and the famous fresbar nutrition bar.
"Having a Chef with Doug's expertise and passion brings a whole new level to our culinary program and to Lewiston, Idaho," says Ron Anderson, General Manager of the Red Lion Hotel Lewiston. "His accolades and experience is just what this hotel needs in order to deliver the best dining options in our community." Doug will be the driving force behind the menu offerings at the hotel, Meriwether's and MJ Barleyhoppers but will also play a role in helping to deliver healthy alternatives at the locally owned, Adcope Athletic Club.
Although Doug's home-town is Newport Beach, California he is Pacific Northwestern at heart. An avid Mountain Biker and Cyclocross Racer, Doug has a passion for both health and nutrition. "I am inspired by both the management and community at the Red Lion Hotel and look forward to bringing my inspiration for cuisine to the people of Lewiston, Idaho," says Chef Metzger.
About The Red Lion Hotel Lewiston:
The Red Lion Hotel, Lewiston is a full service hotel and conference center. The hotel features 181 guestroom and suites, over 13,000 square feet of meeting and banquet space, a full service catering operation, onsite restaurant Meriwether's American Grill, and local brewery MJ Barleyhoppers that features award winning beer selections and weekly local entertainment. The Hotel is managed by Coho.Services and owned by local businessmen Tony Copeland and Phil Adamek. For more information visit the property online at http://www.redlionlewiston.com.
About CoHo.Services:
With over twenty years in the hospitality industry as owners, operators and consultants, CoHo.Services brings a level of expertise and reputation unmatched by any other hotel management company in the market. CoHo.Services has the ability to offer a wide variety of hotel management services directed to meet the complex needs of each individual operation and investor group in the most cost-effective manner. For more information visit CoHo.Services online at http://www.cohoserv.com.