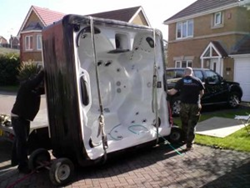 (PRWEB) January 13, 2014
Melrose Moving Company has release a blog presenting 5 items which should not be moved without the help of a professional moving company.
Although pack a residence is something that most people can do, there are some items that require special care. These items are bulky, awkwardly shaped, fragile and expensive. This makes it hard to pack them and dangerous: they can easily break if not packed properly. The five presented items include: musical instruments, gym equipment, bathtubs, heavy furniture and electronics.
Expensive and fragile items should be handled by professionals. For once, it is difficult to find proper tools for packing. Buying them is an expense which may not bring a lot of benefits. Also, many people will have difficulties finding sufficient people to help them pack heavy objects like bathtubs and furniture. Some items, like bathtubs are even difficult to disconnect and dismantle them. Finally, high-quality moving materials may be hard to come by or expensive.
A moving company can help someone relocate in several ways. First, they provide packing services. This means that they will properly pack every object in the house. Not only this, but they will use their own professional tools and packing materials. Packing services save clients time and money.
"Clients who need to relocate bulky, fragile and expensive items like bathtubs and musical instruments, should call a Redondo Beach moving company!" said Russell Rabichev, Marketing Director for Melrose Moving.
Melrose Moving Company is a Los Angeles-based residential and commercial moving company. Originally established in 1999, and has been so popular that the owner started various other moving companies, such as 1 Los Angeles Movers, Movers Los Angeles, and Los Angeles Commercial Movers, all of which are operated by Melrose Moving. The moving company is licensed by the Public Utility Commission (PUC), and has an A rating with the Better Business Bureau (BBB). Melrose Moving accepts cash, checks, credit cards, and Paypal.
For more information, click on http://movingcompanyredondobeach.com. Call now: 1.800.431.3920.