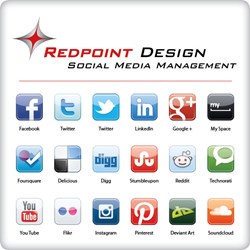 The purpose is to bring more visitors and qualified leads to our clients' websites.
Louisville, CO (PRWEB) September 30, 2013
Redpoint Design announces the expansion of their inbound marketing array with the inclusion of complete social media management. Prompted by strong growth and success with web marketing, the team is adding the additional services to provide better support and development to current and future clients. "We have found many of our clients want social media engagement but lack the time, resources and orchestrated effort it takes to obtain the best results," commented Steve Filmer, Owner, Redpoint Design.
The expanded offering amplifies and complements Redpoint Design's diverse web coverage approach. By building their clients social media presence in conjunction with online marketing they will be bringing increased visibility and improved targeting. "Web marketing is more than just getting high rankings on search engines. The purpose is to bring more visitors and qualified leads to our clients' websites," stated Mark Popenhagen, Web Marketing Manager at Redpoint. "Traditional marketing techniques encompass many different channels; likewise, inbound marketing should include multiple strategies across several platforms."
Small and medium sized companies are finding it harder and harder to gain attention on the web. This is due to budget constraints and a changing marketing environment that favors larger corporations. "We have found by employing sound social media strategy combined with well-researched web marketing, our smaller clients are able to compete more effectively with the big fish out there," added Filmer. Industry experts agree that trends are moving towards a balanced effort with higher quality content and personalized relationship marketing. Redpoint employs their vast industry experience to fully integrate social media with the client's overall marketing strategy and goals.
About Redpoint Design
Redpoint Design is a premier web marketing and social media management company based out of Louisville, CO. They specialize in a total market growth philosophy employing content rich and creative website design, inbound marketing and social media management. In addition, Redpoint works alongside traditional marketing methods to ensure their client's brand is top of mind in all sectors utilizing both online and current trends in all media content.
For more information about Redpoint Design visit: http://www.redpoint-design.com.