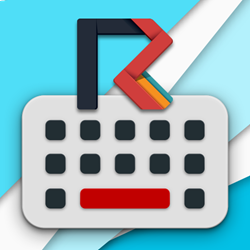 Redraw Keyboard is now used by 5 million people worldwide and the number is rapidly growing. And to prove we mean business, NewsWatch just made an awesome video about us that aired on AMC. - Andrei Vlaicu, Redraw Keyboard PM
Bucharest, Romania (PRWEB) January 17, 2017
The swift rise in the Play ranks achieved by the T-Me Studios-made Redraw Keyboard app in just four months since its September launch is a direct result of a trifecta of propositions that is unique in the 3rd party Android keyboards niche:
1. its growing selection of **themes** that cover personalization needs ranging from minimalist and material all the way to playful and colorful;
2. the **virtual coin-based** system of rewards, the leaderboard and the game-like challenges that keep users engaged within the app;
3. the array of **fast-typing functionalities** for on-the-go professionals - instant translate, Google Docs integration, gesture typing, easy switching between languages and layouts.
Redraw Keyboard's 5-million milestone achievement comes at a propitious time in the young app's life: the start of 2017 also saw the first coverage of Redraw Keyboard by an American TV channel. The app was featured on AMC, in the NewsWatch-produced CES Special which aired on January 6, which tracks with reports of increased interest shown by US media in the European mobile tech industry.
For those who missed it, the segment on the emoji keyboard for Android has been uploaded on Redraw Keyboard's YouTube channel, as well as on the official site of the production company, NewsWatch.
To quote the anchor in the AMC show, 'T-Me Studios [the maker of Redraw Keyboard] has been on a roll these last couple of years, creating over 6,000 personalization apps for the Google Play store.' Based in Bucharest, Romania, T-Me Studios, the brainchild of two young Romanian entrepreneurs, is a leading maker of launchers, keyboards, lockers, live wallpapers, watch faces and more. Its mission is to allow phone users to personalize every aspect of their device, and Redraw Keyboard, an app that rivals longer-standing 3rd party keyboards in both functionality and design, is the latest step, and biggest bet yet for T-Me Studios, towards achieving this goal.
The growth seen by Redraw Keyboard so far is projected to continue throughout 2017, and will run in parallel with periodic launches of new features, most of which have been requested by users, note the app developers.
For further information, contact Ioanina Pavel at T-Me Studios' Redraw Keyboard department.