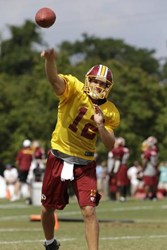 Washington, DC (PRWEB) August 11, 2013
The Washington Redskins played their first preseason game of 2013 last night, August 8th. Despite the lack of usual starters in the game, 8 total, the Redskins managed to come back from being down against the Tennessee Titans. The final score of this first game was 22-21. The Redskins' most important starter, RGIII, is still out recovering from his ACL surgery, so backup quarterback Kirk Cousins filled in. As fans and spectators may have been unsure going into the game about Cousins's performance, he did his job well and led the team to victory. In the victory, Cousins threw for one touchdown and missed only one pass. He completed six passes for 52 yards in the end. In addition to starter RG3 sitting out, the Redskins also sat tackle Barry Cofield, cornerbacks DeAngelo Hall and Josh Wilson, as well as safety Brandon Meriweather. To fill in for some of those spots, the team started three rookies in the preseason competition. To make sure RG3 is ready for the season opener and in the best possible condition he can be, Cousins may start all four preseason's games. Not only did Cousins's performance reassure Washington fans that they can do alright for a few games without RG3, but he raised his stock for potential trade in the future. RG3 is going to be the starter for the Redskins for a long time, and Cousins just might find a starting home somewhere else in the league. If he has a few more solid appearances in 2013, teams may be lining up for him next year.
For the rookies that started in the defense, they made it apparent they have a lot to learn. Adjusting to the speed of the NFL is a tough transition and it usually difficult for most beginners. The defense got the victory in the end, but did not take the most attractive route in getting there. The preseason, thankfully, is about learning, especially for the rookies. The team gets to use these games to see who can handle the pressure and who cannot. Nothing is set in stone on the roster, and changes can always be made. To find yourself at a game this season at FedEx field in Landover, Maryland, visit http://www.Redskinstickets.com/. At this site, Redskins fans can find the least expensive Redskins tickets on the web. Fans can also find an easy read schedule, active Redskins blog, and engaging social media hub. The Redskins won the NFC East last year, so don't miss out on a chance to watch this team dominate once again! Their next preseason game will be played on August 19th against the Pittsburgh Steelers. This game will be played at home. Buy your tickets now!