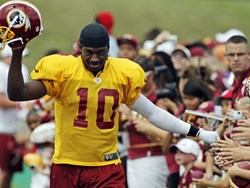 Washington, DC (PRWEB) September 06, 2013
Coach Mike Shanahan officially announced this week that the Washington Redskins elite quarterback RGIII will be starting in the team's first season game on Sunday against the Philadelphia Eagles. Griffin was released by his surgeon last week to play, but Shanahan declined due to some lingering concerns. Apparently those concerns are no longer that of, and the sophomore quarterback will begin his year starting on his home turf. Although Griffin was an amazing player last year, leading the Redskins to win the NFC East and then to the playoffs, his teammates are saying he is somehow better now than when he left.
The Washington Redskins have been playing great in the 2013 preseason, even without RGIII by their side. They won all four games, which included wins against the Titans, Steelers, Bills, and Buccaneers. Although some might say the preseason is not always a good indication of how the regular season will go, the Redskins still dominated, and did so without their star quarterback. With RGIII back in action on Sunday, who knows where this team can go. Some key games for the Redskins this season include games against the Denver Broncos, San Francisco 49ers, and two games against their divisional foes the New York Giants. If the Redskins can come out of the regular season with a winning record and top the NFC East again, there is a very good chance this team can go all the way. Go to http://www.Redskinstickets.com to follow up on your favorite Washington team and purchase a ticket to a game at FedEx field. At this site, Redskins fans can find the least expensive Redskins tickets on the web. Fans can also find an easy read schedule, active Redskins blog, and engaging social media hub. The Redskins won the NFC East last year, so don't miss out on a chance to watch this team dominate once again! Buy your tickets now!