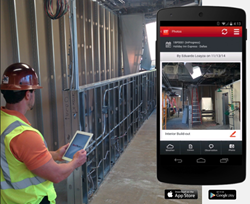 our users can manage their construction projects better, faster and easier, regardless of the device they're using or the environment
Orlando, Florida (PRWEB) March 24, 2015
RedTeam Software announced today that it will adopt the latest Material Design standards and components developed by Google for the next release of its leading construction project management application. This development, which will include the integration of components from framework publishers including AngularJS and Node.js, will enable a responsive user interface and better usability on devices with different form factors, including phones and tablets.
RedTeam Software is implementing these standards as part of its continuous effort to ensure the highest quality experience by RedTeam users across all Internet-connected platforms. With this goal in mind, the company selected a Google Material Design compliant framework for its responsive design that utilizes navigational tools carefully honed by Google for use by millions of on-the-go users.
"We developed RedTeam's features based on years of direct experience managing demanding and complex projects in the construction industry," said Michael Wright, Chief Executive Officer, RedTeam Software. "With the new version of our cloud-based software our users can manage their construction projects better, faster and easier, regardless of the device they're using or the environment. It is a bold next step in our mission to empower our clients to work smarter and more efficiently," he added.
The many user-friendly enhancements of the software confirm RedTeam as the leading developer of software tools that significantly improve project management for commercial construction enterprises.
About RedTeam Software
RedTeam Software offers the most comprehensive cloud-based solution for construction project management. With intuitive social design interface and real-time updates, RedTeam enables construction teams to collaborate effectively online at all stages of a project - from business development and pre-construction to closeout.