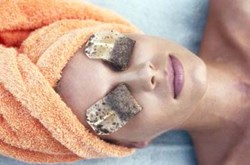 Puffy Eyes Reducer focuses like a laser on tired, puffy, wrinkled, darkly circled eyes.
Adel, IA (PRWEB) September 17, 2013
Women (and men) using Puffy Eyes Reducer, the new and innovative skin care solution from M&M Beauty and Wellness report dramatic reductions in bags under the eyes, dark circles, eye puffiness and more.
Bring on the Botanicals - The properties of green tea leaf extract are well known and include: constriction of blood vessels, reduction in swelling, and anti-irritants that soothe redness and reduce inflammation. Cucumber is well known for both its astringent and anti-inflammatory properties that result in a soothing effect on puffy, swollen eyes. Evening primrose is a natural anti-inflammatory for people with irritated and inflamed eyes, especially those with allergies.
A Spa in a Tube - It's not an accident that the most expensive spa treatments include tea bags and fresh cucumber slices placed on the eyes. Puffy eyes, dark circles, and crow's feet affect both men and women, resulting in a tired and unhealthy appearance. Puffy Eyes Reducer addresses all of these symptoms at once - without the expensive trip to the spa.
"Once again, our product team created another great skin care product designed to address a specific skin condition and provide specific results," said Matt Lambi, product development at M&M Beauty and Wellness, LLC. "Puffy Eyes Reducer focuses like a laser on tired, puffy, wrinkled, darkly circled eyes. We concentrated the very best from expensive spas, home remedies, and other eye treatments into a .5oz tube of magic. You no longer have to cut up cucumbers, boil tea bags, or spend $1000 at a spa to reduce eye puffiness. Puffy Eyes Reducer does it for $49."
Normally selling for $49, Puffy Eyes Reducer is currently offered exclusively on Amazon at http://www.amazon.com/Best-Puffy-Eyes-Reducer/dp/B007U8E600 for the promotional price of $19.95.
About M&M Beauty and Wellness, LLC
Headquartered in Iowa, M&M Beauty and Wellness, LLC delivers solutions that support health and well being. All of the company's products are manufactured exclusively in US-based, FDA certified, and inspected facilities.