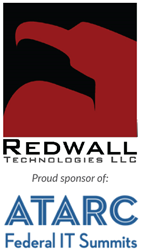 We believe ATARC's event will help further validate what we're hearing from our customers, who see Redwall as an ISV that is pioneering a new approach to securing data and sensitive IP.
Beavercreek, Ohio (PRWEB) September 28, 2017
Redwall Technologies, the leading ISV for multi-modal endpoint device security, today announced it has secured a sponsorship at ATARC's Federal Mobile Computing Summit, scheduled for October 24th in Washington, D.C. ATARC is a 501(c)(3) non-profit organization that provides a collaborative forum for Federal government, academia, and industry to resolve emerging technology challenges. The Washington D.C.-based non-profit holds a series of technology summits in the metro area that focus on technology topics such as mobile computing, Big Data, security, Dev Ops and others.
"We're excited to support an organization such as ATARC to help increase awareness within the U.S. Government's data-consuming ecosystem of just how sophisticated nation-state attackers are becoming," said John Rosenstengel, president and CEO of Redwall Technologies. "ATARC does a great job bringing the vendor community and government together in a one-day symposium, as evidenced by the 100 or so companies and government entities represented."
Redwall recently received a government grant and will be working closely with the Department of Defense on a project centered around mobile data integrity and confidentiality. Attendees are encouraged to stop by the Redwall booth and see a demonstration of Redwall Mobile®, and learn more about the product involved in the grant.
ATARC's Federal Mobile Computing Summit consists of an educational, one-day symposium that explores the mobile tools and technology the Federal government is utilizing to increase efficiency and reduce cost. Redwall is sponsoring a booth in the Technology Showcase and will also have a representative at the LG Electronics Mobile booth, also located in the Technology Showcase area.
"LG Mobile is quickly becoming an innovation leader in mobility, and it's great to see their interest in our unique approach to hardening government endpoint devices," added Eric Üner, Redwall CTO. "We believe ATARC's event will help further validate what we're hearing from our customers, who see Redwall as an ISV that is pioneering a new approach to securing data and sensitive IP."
The Federal Mobile Computing Summit kicks off at 7:30 a.m. on October 24th, at the Washington Marriott at Metro Center, in Washington D.C., and concludes at 6:00 p.m. There are multiple learning sessions throughout the day and the event is free to government and full-time academics. The symposium qualifies for 7.5 CPE credits from (ISC)2, an international non-profit association best known for its award-winning CISSP® certification. Complimentary government registration can be found here.
Redwall Mobile Device Hardening
More than just a container or simple switch between work and home profiles, Redwall Mobile® features multi-modal personas, each with its own unique apps, data, settings, and encryption keys. The multi-modal feature of Redwall Mobile® delivers a cleaner operating environment because it secures the device at the kernel layer, below the application stack. This security architecture allows customers to configure any number of personas to fit the needs and mission profiles of individual users or groups of users. Each persona has its own securely-isolated apps, data, settings, authentication requirements, and security policy that define which processes can access which system features, drivers, files, and networks.
With this unique approach, Redwall Mobile® puts client organizations in a more proactive posture limiting malicious user and virus activity by halting access to sensitive corporate (or personal) data below the application stack. Because Redwall operates below the application layer, it thwarts even highly-sophisticated kernel and driver exploits. Furthermore, Android devices hardened with Redwall are immune to threats like TowelRoot and KingRoot without the need for patches or updates of any kind, and will defend against future zero-day attacks without the need to push an update. No emergency patching is required in this set-and-forget mode of securing access to data and sensitive IP.
About Redwall Technologies, LLC
Redwall Technologies was founded in 2013 by a group of defense and intelligence practitioners who had a common desire to secure mobile points of intrusion into government datacenters. Rather than looking at signatures of viruses already in circulation, Redwall founders developed their product on the premise of "what would keep us from hacking into a device?" Redwall founders leveraged their offensive expertise into a proactive approach to prevent their own white-hat hacker team from compromising a mobile device. This led to their development team building device-hardening tools for smartphones, tablets, and other connected devices such as those found in SCADA, CANBus, and similar networks.
Redwall's unique, patented technology is typically installed at organizations whose users rely heavily on the highest levels of device performance and availability, while ensuring military-grade security. The prototypical Redwall Technologies user is a first responder in a disaster zone or member of a military operations team engaging in matters of national security, whose field communications require adapting to fast-changing environments and threat landscapes. For more information on Redwall Technologies, please visit http://www.redwall.us.