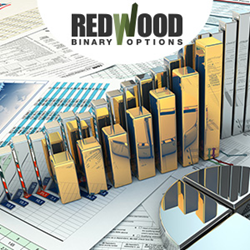 The Redwood Options platform has a brand new look!
Gibraltar (PRWEB) September 09, 2014
NEW FEATURES
Redwood Options has launched several new features that make binary options trading easier, more fun and beneficial for users. The Ladder Options are one of the newest features to be presented on this binary options platform. When trading with Ladder Options, users are invited to do more than just evaluate whether an asset will close above or below a fixed price level. They can make multiple investments based on just how far up the "ladder" they think options will close, enabling them to receive returns of up to 1500%.
Redwood Options has also introduced a new Forex Feature and Follow Feature. The Forex Feature enables the excitement of forex-type trading with the safety and security of a binary options platform. Unlike standard forex trading, trader's balances remain protected when they use this feature. Only their initial investment on a specific currency can be affected. The Follow Feature allows users to learn and benefit from top binary options traders by "following" their actions. An automated and free application gives users the tools to mimic the trades of the top traders and reap the rewards of their successful investments. Redwood Options is delighted to be one of the first binary options platforms to offer these exciting new tools to their users.
NEW WEBSITE DESIGN
The Redwood Options platform has a brand new look! The updated website is sharp and even easier to use. The new interface makes it extremely simple to toggle between the different types of binary options trading methods. On the homepage, users can switch between viewing the Call/Put, Long Term, Pairs, One Touch, 60 Seconds and Ladder Options all with a single click. The updated charts are easier to read and now include asset icons. Additionally, Redwood Options has brand new trading times of 60, 90, 120, 180 and 300 seconds for those who thrive on short-term investments.
Redwood Options has also updated their Market Analysis section to provide users with content that is cleaner and more appealing. Included in this section are updates on relevant daily news and various trading opportunities.
RUSHBUCKS AFFILIATE PROGRAM
With an extensive selection of marketing tools, frequent payments, CPA offers and frequent conversions, it is clear why the RushBucks Affiliate Program was named the best in the industry. RushBucks affiliates receive unlimited resources via RushBucks.com to aid in their ventures, including customized banners and unique review content. If you want to join the top binary options affiliate program in the industry, visit http://www.RushBucks.com today!
ABOUT REDWOOD OPTIONS
Redwood Options is setting the standard in the binary options industry for easy-to-use and customer-oriented binary options trading. Redwood Options offers payouts of up to 81% on the 60 Second trading option and extremely high payouts on other options. Three different account packages with unique perks and bonuses are available to satisfy traders of all levels. Signing up is fast, easy and free on the Redwood Options platform.