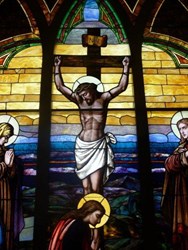 We were very happy to keep such a historic piece of Church art in the Diocese of Fresno.
Reedley, CA (PRWEB) February 05, 2014
Associated Crafts, America's premier stained glass studio, recently installed repurposed historic stained glass windows as well as newly designed and fabricated windows for St. Anthony of Padua Catholic Church in Reedley, Calif. Associated Crafts facilitated the Church to purchase and repurpose some historic windows from their own diocese. These windows were fully hand-painted and beautiful.
"We were very happy to keep such a historic piece of Church art in the Diocese of Fresno," said John Phillips Jr., President and CEO of Associated Crafts. "We carefully restored the windows to their original luster then re-sized them for their new setting in the new church building."
The Church also commissioned Associated Crafts to design and fabricate four new windows that closely match the historic windows. These windows depicted San Juan Diego, St. Anthony of Padua, St. Hannibal and St. Patrick. There is also a new balcony window depicting the Alpha, Omega and Holy Spirit. The project was completed by Cris Soth and her art team (Shoan Dieter and Danielle Shier) along with craftspeople led by Jolene Tedrow.
"For nearly three years we worked closely with Church member Jim McGahan, who is originally from Ireland and had a great deal of influence on the St. Patrick window especially," Phillips said. "Mr. McGahan worked diligently to help Monsignor Esquivel (the parish Pastor) and serve his Church community. He relayed the donors' design requirements to Associated Crafts' head designer and artist Cris Soth. It was a pleasure to work with someone who has such talent and an uplifting personality. Monsignor Esquivel is a very special leader as well and was able to lead his parish in the building of such a wonderful new church."
Phillips says the final installation in December was the completion of three years of hard work. "Cris Soth and her art team along with Jolene Tedrow made these windows come to life," Phillips said. "The past three years have been such a rewarding time! We were allowed the chance to make history with this special church and even better got the chance to work with some wonderful people we can call friends."
About Associated Crafts
Founded in 1997 by John and Mary Phillips, Associated Crafts is a family-owned and operated Stained Glass studio specializing in the restoration, installation, design and preservation of church stained glass windows. The company's expertise culls from John Phillips' more than 30 years in every aspect of the stained glass business, following his father's footsteps in the industry. For more information, visit http://church-stained-glass-windows.com.