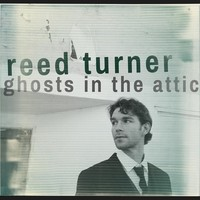 Austin's latest gem – the charismatic, funny and multi-talented Reed Turner. The singer-songwriter...will take you on a journey with his vivid story-telling and soulful vocals on his new album Ghosts in the Attic. - On the Record
Austin, TX (PRWEB) February 28, 2014
Reed Turner's latest release, "Ghosts in the Attic," lives up to its name with haunting melodies and enchanting vocals. Turner's Berklee-trained voice will grab you by the heart and pull you into his enthralling stories, while the virtuosity of his band keeps you there and leaves you yearning for the next song. A soulful pedal-steel comes through on tracks such as "Ghost in the Attic," reminding the listener that Turner was indeed raised in Texas. Turner, however, is capable of employing many genres, and shows his impressive mastery of musical styles on his new album. From Blues to country, rock to folk, Reed Turner embodies the very definition of Americana and creates a unique sound and style that has helped to establish him in Austin's tight-knit musical community. Turner's musicianship has also earned him the first place spot at the 2013 Telluride Bluegrass Festival's "Troubadour Competition," which is awarded to the best songwriter and performer in participation.
Powerful storytelling is a mainstay of Ghosts In The Attic, and is exemplified by the compelling murder ballad "Killed that Girl ('Cause She was Killing Me)," and in "The Fire," where Turner shows that not only can he charm you with his voice, he can also capture you with his lyrics (though they work wonderfully in concert with each other). Turner's band backs his songwriting with textural guitar, skillful fiddle, deep bass, and sparse, yet gripping percussion.
Ghosts in the Attic was produced by Matt Noveskey (Blue October) and engineered by Kevin Butler.
You can learn more about Reed Turner at http://www.reedturner.com
For more information, images, or to arrange for an interview, please contact Melissa Zeigler at Powderfinger Promotions: melissa(at)powderfingerpromo(dot)com.
Powderfinger Promotions–Independent Radio Promotion and Publicity. Since being founded in October 1994, Powderfinger has come to be regarded as a top indie radio promotion and publicity firm with ties across North America.