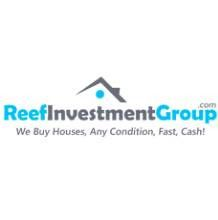 SAN DIEGO (PRWEB) October 11, 2018
Reef Investment Group, (http://www.reefinvestmentgroup.com), a home buying company in San Diego, is helping local homeowners avoid foreclosure by guaranteeing a fast sale.
"Selling a house can take weeks or even months. Even if the market is good, you don't know when an offer will come. When it does, homeowners can spend weeks getting appraisals, inspections and doing repairs. If foreclosure is looming, homeowners don't have the time or the money for a traditional on-market sale. Another stress is having a damaged credit score because of missed mortgage payments. Time is really of the essence," says company co-owner Ryan Call.
The solution is Reef Investment Group, a home buying company that offers fast closing dates, cash sales, and purchases homes without the homeowner needing to do any repairs or renovations whatsoever.
"When foreclosure is on the horizon, think of the benefits of selling directly to a cash home buyer," says Call. Benefits such as:

Not having to pay a commission or any fees
Getting an all-cash offer in hours, not days or weeks
Setting a fast closing date
No need for renovations, repairs, or even staging
No need to vacate the home to have potential buyers view it over and over again
When the choice is to lose the home or to sell it quickly for cash, those facing foreclosure in San Diego County have a viable option, thanks to Reef Investment Group.
The Reef Investment Group's process and customizable solutions help homeowners in San Diego County avoid foreclosure and move on to better opportunities. To learn more, visit http://www.reefinvestmentgroup.com/how-we-buy-houses/ and http://reefinvestmentgroup.com/blog/ today.
About Reef Investment Group
Reef Investment Group is a cash home buyer that provides fair all-cash offers for homes. Offers are made within 24 hours of contact. Sellers to Reef Investment Group can choose their own closing date, even if the house has rental tenants or is in terrible condition – all types of homes in any condition, and those with and without tenants, can receive a cash offer. Repairs, renovations and staging are not necessary. Reef wants homes as is in San Diego County, CA. This is the company to call when you want a fair cash offer, a quick sale, and no contingencies.
Contact Details:
Ryan Call
Carlsbad, CA
92008
Ph: (760) 888-6406
ryan(at)reefinvestmentgroup.com
Source: Reef Investment Group