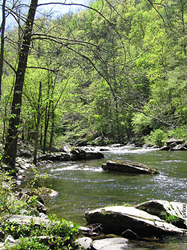 KNOXVILLE, Tenn. (PRWEB) August 20, 2019
Whether it is fishing for bass, crappie, catfish or trout, or for sport, food or just fun, fishing enthusiasts can find world-class lake fishing within the Tennessee River Valley. The area offers more than 11,000 miles of shoreline and more than 700,000 acres of water, and is quickly earning the reputation as one of the best fishing destinations in the United States.
The Tennessee River Valley Mapguide offers itineraries for those who want to go on an angling adventure and experience all that the region has to offer. The Fishing Sampler for the Eastern TRV itinerary offers anglers a chance to experience fly, reel, and even kayak fishing, and takes anglers to dams and their tailwaters; the creeks and streams flowing out of the foothills; and lakes, offering "two-story" fisheries with stratified waters in the summer months. The trip plan extends to several days or can be broken down for those who have only a day to explore, and includes places to stay, locally-owned restaurants and attractions not to miss, along with a few guides and outfitters to help make the experience top notch.
North Alabama is known for many things including magnificent overlooks, some of the best barbecue in the country and noted attractions such as the U.S. Space and Rocket Center and birthplace of Helen Keller. Ranked right up there with these favorites is fishing. For a fishing expedition to this area, check out the Go Fish itinerary on the Tennessee River Valley Mapguide. The trip plan features seven lakes in North Alabama, all well stocked with a variety of fish.
Additional spots to check out for world-class fishing include:

An 186,000-acre impound with 2,380 miles of shoreline, Kentucky Lake attracts anglers of all skill levels. With the region's mild climate, fishing is popular year round. Late winter brings in anglers for crappie fishing, those in search of some trophy bass fishing usually have luck in the spring and on into summer, while the summer months are the best times fishing for catfish. In addition to all the fishing, the large embayments of Kentucky Lake can offer hours of enjoyment for the recreational boaters whether sitting and soaking up the sun, or experiencing the thrill of skiing or tubing.
With 56 species of fish including trout, walleye, stripers, crappie, large and small mouth bass, fishing is a popular activity on Norris Lake. According to the Tennessee Wildlife Resources Agency (TWRA), the best place to catch a big trout is in the tailwaters below Norris Dam. This area was ranked by the TWRA as one of the best tailwater trout fishing destinations in the state for 2018. Public boat launches on Norris Lake can be found at Big Ridge State Park, Palmer Junction Road, Loyston Point, Mill Creek, Fall Creek, Hunting Creek, Dodson Creek, Leadmine, Buffalo/ Dark Hollow and Little Barren Creek. Shoreline fishing is available at Big Ridge State Park, Chuck Swan WMA and below the dam. Click here for more tips on Norris Lake.
Scruggs Bridge Fishing and Picnic Area in Dennis, Miss. has been considered a hot spot for catfish and crappie. Local fishermen prefer the south side of the waterway for flathead and channel catfish.
The Tellico River in Monroe County, Tenn. is nationally recognized as a premier trout stream. Located within the heart of The Cherokee National Forest, its headwaters begin in North Carolina and flow for almost twenty miles to Tellico Plains. For the fly fisherman the river's best assets are its smaller, wild trout streams that contain native brook, rainbow and brown trout. Please note there is a daily Tellico/Citico permit required to fish the Tellico River in addition to a Tennessee fishing license.
Additional tips for recreational anglers to check out:

To assist anglers fishing in the Tennessee River Valley, the TVA Lake Info app is an essential for tool for every tackle box. The app gives users the ability to monitor real-time generation and water levels on all TVA reservoirs. The app is available for iPhone and Android users—6.0 and newer. For anglers that are less tech savvy, the same information can be found online by visiting https://www.tva.gov/Environment/Lake-Levels.
For the ultimate fisherman cheat sheet, visit https://www.tva.gov/Environment/Recreation/Where-the-Sport-Fish-Are for an inside guide for successful warm-water fishing in the Tennessee River Valley.
For more information on TVA, fishing on its lakes or other outdoor recreation, check them out online at:
https://www.tva.gov/Environment/Recreation/Fishing-the-Valley
https://www.tva.gov/Environment/Recreation/Where-the-Sport-Fish-Are https://www.tva.gov/Environment/Recreation
https://www.facebook.com/TVA, https://www.facebook.com/TVA, https://twitter.com/tvanews
https://www.instagram.com/tva/
https://www.youtube.com/user/TVANewsVideo
Learn about fishing hot spots in the region told through the stories of people and places by visiting the Tennessee River Valley Mapguide. All listings have been nominated by local people who know the region best and offer visitors the most unique, fun and interesting experiences. For more information, visit http://www.exploreTRV.com.