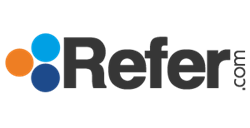 We are committed to building Refer.com into the world's leading referral sales solution for professional service providers and small businesses.
Boise, ID (PRWEB) January 15, 2014
TrustedTeam LLC & 22Touch Systems Inc announced today the signing of a merger agreement that unites two of the nation's preeminent referral technology platforms under the corporate identity and brand, Refer.com. The Refer.com domain address is being acquired through an agreement with Idealab, a technology pioneer and creator of more than 125 companies, including Overture, X1 Technologies and UberMedia. Under the agreement, Pasadena, CA based Idealab is receiving an equity stake in the new company. Refer.com will combine the best of the predecessor companies' solutions to help businesses and service professionals get more referrals from their clients, colleagues and social sphere.
Refer.com will unveil its first major product, the Referral Partner Program, later this week. This new program combines the power of 22Touch and TrustedTeam into a personalized action plan with powerful tools and on-on-one support for professionals who need more referrals. Later this year, in the Spring of 2014, Refer.com will launch a new software solution which fully integrates the online solutions of 22Touch and TrustedTeam.
"We are committed to building Refer.com into the world's leading referral sales solution for professional service providers and small businesses." said Tom Gay, CEO of 22Touch. "As we combine the strengths of our dynamic organizations, we are superbly positioned to quickly capture market share in the growing referral services industry."
"We are passionate about helping professionals grow their business through our Nurture/Partner/Promote system," said Brandon Barnum, CEO of TrustedTeam. "Our combined software solution and professional network will empower professionals with a proven, effective, and low-cost client acquisition solution."
Upon completion of the merger, Tom Gay will serve as Chief Executive Officer, Chris Bounds will serve as President, and Brandon Barnum will serve as Chief Referral Officer of Refer.com. The shareholders of 22Touch and TrustedTeam will each have representation on the combined company's board of directors. All three of these executives have previously played key leadership roles in building successful technology companies, including MarkMonitor.com (now owned by Thomson Reuters), National Decision Systems (now owned by A.C. Neilsen).and VinstaInfo now owned by Fidelity National Information Solutions) .
About 22Touch
22Touch is a SaaS platform that provides professionals, small businesses, and sales teams a system that helps them build trust and deepen relationships with key contacts to generate a steady stream of referrals. Founded in 2011 by Tom Gay, former CEO of National Decision Systems and VistaInfo, 22Touch empowers business professionals with the same systems and strategies that Tom used to successfully build two $80M+ companies. For more information on 22Touch, visit http://www.22Touch.com.
About TrustedTeam
TrustedTeam is a next generation referral platform for professionals and small businesses to generate and track referrals with the people they know, like, and trust. TrustedTeam's cloud-based model provides a collaborative marketing environment that leverages the strength of professional relationships. The online co-marketing engine allows professionals and small businesses to cross-promote members of their team. The result is an increase in both the reach of their marketing communications, and the overall value of their marketing efforts. For more information on TrustedTeam, visit http://www.TrustedTeam.com.
About Idealab
Idealab's mission is to create and operate pioneering technology companies. Founded in 1996 by entrepreneur Bill Gross, Idealab provides a broad range of operational support to its companies, allowing the company management teams to focus on getting to market quickly and cost effectively and to take advantage of the serial start-up experience of the Idealab team. Bill Gross and Idealab have founded or advanced development of more than 125 companies including Overture Services, eSolar, UberMedia, CitySearch, Picasa and Internet Brands. Current operating companies are providing innovative technology solutions in industries such as software, search, Internet media and services and alternative energy fields. Additional information may be found at http://www.idealab.com.
LinkedIn: http://www.linkedin.com/company/refer-com
Facebook: https://www.facebook.com/referdotcom
Google+: https://plus.google.com/u/2/b/105658906970877215424/110617647200528601844/posts
Contact info:
John Lewis (855) 228-6824