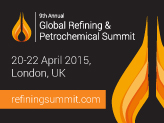 Implement key evolving technologies and enhance energy efficiency to increase Refining and Petrochemical margins
London (PRWEB UK) 26 February 2015
Ahmed Omar Abdulla (Chief Operating Officer) Abu Dhabi Oil Refining Company (TAKREER) is confirmed to speak at this year's Global Refining & Petrochemical Summit (20-22 April 2015, The Hague, Netherlands). He will address one of the main themes of the WTG's 9th Global Refining & Petrochemical Summit – The Integration of Refining and Petrochemical Industries. The case study presentation will look at the Ruwais Refinery - a modern and state-of-the-art integrated industrial complex – and focus on the seamless integration between Gas Processing, Refining and Petrochemical industries while maintaining a high level of efficient operating value maximisation & energy efficiency.
Ahmed will be joined by two other newly confirmed speakers including:
Surya Armansyah, Vice President Technical Development, Petrochemical Projects, PT. Pertamina
Ahmad Hamdoun, Senior Specialist - TPL, KNPC - Shuaiba Refinery
Don't miss this opportunity to join over 100 senior refining and petrochemical executives who will gather to connect, share, find new solutions and hear from business leaders such as:
B.R Mehta, Vice President, Reliance Industries
Guo Hongli, Director, Sinopec
Petri Lehmus, Vice President, Neste Oil
Lars Rosenløv, VP and Refining Manager, Statoil
Giacomo Rispoli, Executive Vice President, Eni
Rafael Larraz, Director Research Centre, Cepsa
Tomas Herink, Research and Development Director, Unipetrol
David Pullan, Senior Vice President Group Downstream Development, MOL Group
Giordano Serafini, Head of Production Planning, Saras
Radoslaw Gospos, Senior Specialist, Development and Energy Department, Refining Technology Team, PKN Orlen
Stephen Wagner, Engineering Consultant, Saudi Aramco
To view the full speaker line-up and three-day programme, visit http://www.refiningsummit.com/?utm_source=prweb&utm_medium=pr&utm_campaign=grs15
Register online at http://www.refiningsummit.com/prweb
Alternatively, you can also showcase your solutions to a high level delegation of over 100 senior decision makers. Connect with our pre-qualified delegates through, one-to-one business meetings, host an illuminating workshop or present your latest innovation at one of our showcases.
For more details on attending or sponsoring/exhibiting, call +44(0)20 7202 7690 or email enquire(at)wtgevents(dot)com