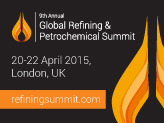 Implement key evolving technologies and enhance energy efficiency to increase Refining and Petrochemical margins
London (PRWEB UK) 5 March 2015
China's National Development and Reform Commission (NDRC) has approved Sinopec Beijing Yanshan Petrochemical Co. Ltd., a subsidiary of China National Petroleum Corp. (Sinopec), to proceed with its plans to build a grassroots refinery in Caofeidian Industrial Zone, Tangshan, Hebei Province, China. Approved by NDRC in late January, the $4.3-billion refinery would have a crude oil processing capacity of about 12 million tonnes/year and would host additional processing units for residual fluid catalytic cracking, hydrotreating, hydrocracking, isomerization, alkylation, desulfurization, as well associated units and infrastructure, according to notices posted to the web sites of NDRC, Sinopec, and the government of Caofeidian.
(Source: Oil & Gas Journal, 'Chinese regulators approve Sinopec's plan for grassroots refinery', 6 Feb 2015)
Against this backdrop, Guo Hongli, Director, Sinopec is confirmed to speak at this year's Global Refining & Petrochemical Summit. His presentation will discuss how the petrochemical expansion in China is affecting the global market and the future implications this holds as the petrochemical landscape continues to evolve. Practical implementation will also be shared on one-step sulphur removal technology for FCC naphtha with maximum octance retention.
Don't miss this opportunity to join over 100 senior refining and petrochemical executives who will gather to connect, share, find new solutions and hear from business leaders such as:
B.R Mehta, Vice President, Reliance Industries
Guo Hongli, Director, Sinopec
Petri Lehmus, Vice President, Neste Oil
Lars Rosenløv, VP and Refining Manager, Statoil
Giacomo Rispoli, Executive Vice President, Eni
Rafael Larraz, Director Research Centre, Cepsa
Tomas Herink, Research and Development Director, Unipetrol
David Pullan, Senior Vice President Group Downstream Development, MOL Group
Giordano Serafini, Head of Production Planning, Saras
Radoslaw Gospos, Senior Specialist, Development and Energy Department, Refining Technology Team, PKN Orlen
Stephen Wagner, Engineering Consultant, Saudi Aramco
To view the full speaker line-up and three-day programme, visit http://www.refiningsummit.com/?utm_source=prweb&utm_medium=pr&utm_campaign=grs15
Register online at http://www.refiningsummit.com/prweb
Alternatively, you can also showcase your solutions to a high level delegation of over 100 senior decision makers. Connect with our pre-qualified delegates through, one-to-one business meetings, host an illuminating workshop or present your latest innovation at one of our showcases.
For more details on attending or sponsoring/exhibiting, call +44(0)20 7202 7690 or email enquire(at)wtgevents(dot)com