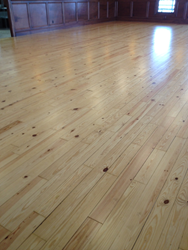 Royal Wood Floors Inc. Continues Its Quality Driven Craftsmanship with the Completion of the Morningstar Golfer's Club
Waukesha, WI (PRWEB) February 28, 2014
Morningstar Golfer's Club is known for its challenging links, beautifully landscaped environment; and, its elegant yet relaxed atmosphere. When it came time to refinish pine wood floors in its prestigious clubhouse, it relied on just one Waukesha hardwood flooring contractor to do the job right, Royal Wood Floors.
The course and club has a long, rich tradition of bringing an upscale playing, dining, and socializing environment together with some of the most fabulous features of a well designed and perfectly manicured course can have.
Its own website boasts these characteristics, "Morningstar Golfers Club has been created on simple strengths and carefully chosen accents in order to give it an elegant, engaging, and memorable personality. Incorporating a dynamic landscape, four lakes, and thousands of grand old trees, Morningstar has become a championship course that will challenge the talent and character of players of all skill levels, from novice to scratch."
Combined with a wonderfully flexible accessibility, Morningstar has become internationally noted for its beauty; and, a significant portion of that beauty can be found in its grand clubhouse. The pub and restaurant, along with the grand rooms provides its guests with wonderful experiences. Recently, the club tasked Royal Wood Floors with the job to refinish its facility floors, requesting the pine wood be brought back to its former glory.
The company responded in a careful and considerate manner, meticulously going over every square inch of hardwood, refinishing it in only a way an experienced and professional flooring service can.
The club is proud of its facility, boasting about its inviting and wonderful appeal on its website, "Dominating the property from its high perch above the course is Morningstar's Clubhouse and Hickory Sticks Pub and Restaurant. Offering perhaps the most beautiful vista in all of Waukesha County (far horizons and thirteen holes are within view!); this full service facility will cater to your needs with our cozy Pub and ornate Dining Room. The combination of the quality atmosphere, fine foods and spirits, and unsurpassed view will make this a gathering place for golfers and non-golfers alike."
For more information about these experienced and professional services, such as its ability to refinish pine wood floors, or to speak with top notch Waukesha hardwood flooring contractor, phone Keith Allman at 414-378-2066. Estimates and appointments can be made through the company's website, at http://www.RoyalWoodFloor.com. Search "hardwood floor refinishers Waukesha" and discover how this company provides top craftsmanship and cares for many types of custom and domestic wood floors.