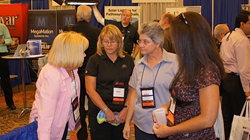 We can save commercial facilities thousands of dollars—up to 75% of replacement costs.
Colorado Springs, CO (PRWEB) May 12, 2014
Miracle Method, the nation's leading provider of surface refinishing solutions, will be exhibiting at eight national trade shows in 2104.
"Attending these trade shows increases our exposure to a variety of commercial facility managers," says Don Dominick, VP of National Accounts for Miracle Method.
Miracle Method Surface Refinishing will be demonstrating its latest technology at the following national trade shows:
Senior Living
ALFA Conference & Expo
May 20-21, Phoenix, AZ
Colleges
APPA Annual Conference & Expo
July 21–22, San Diego, CA
ACUHO-I/APPA Annual Conference
Oct 27-30, Kansas City, MO
Hospitals
ASHE Annual Conference & Tech Expo
Aug 3–6, Chicago, IL
Healthcare Facilities Symposium & Expo
Sept 30 – Oct 1, Chicago, IL
Facilities
IFMA World Workplace Conference & Expo S
ept 17-18, New Orleans, LA
Hotels
Choice Hotel Show
May 13-15, Las Vegas, NV
IHMRS
Nov 9-11, New York, NY
Visitors to their booth will learn how Miracle Methods has saved facility managers hundreds of thousands of dollars in renovation costs with their proprietary surface refinishing process. Using Miracle Method virtually eliminates the need for costly replacement of leaking shower pans, ugly tile, laminate countertops, bathtubs and even concrete floors. Maintenance costs are also reduced as a Miracle Method refinished surface is easier to clean, and the permanently sealed grout prevents the growth of bacteria, mold and mildew on shower pans and other tile surfaces.
Miracle Method can return a kitchen or bathroom to service in as little as 24 hours, while replacing tile can take weeks. "We can save commercial facilities thousands of dollars—up to 75% of replacement costs," explains Dominick. "And the permanently sealed grout is easier to maintain and to keep germ free, saving even more money in the long run."
With 135 offices across the US and Canada and experience in a variety of commercial facilities, Miracle Method can provide its services virtually anywhere. To learn more about Miracle Method and to read case studies, visit http://www.miraclemethod.com/commercial, send an email to sales(at)miraclemethod(dot)com, or call 888-741-3511.