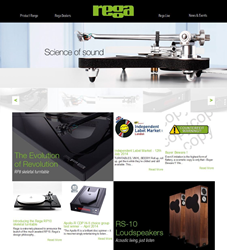 The photography included a six-day shoot for the products alone; we wanted to show the sheer design beauty and intricate quality of every component
Southend, Essex (PRWEB UK) 25 June 2014
From its custom-built factory in Southend-on-Sea, Essex, Rega designs and manufactures turntables, audio and hi-fi equipment for music lovers across the world. The company's reputation continues to make it an industry leader; the Rega RP8 was among the 'best 18 designs of all time' named by designers Marc Newson and Apple Inc's senior vice-president of design Sir Jony Ives. Rega sold more turntables in 2013 than in its previous 41-year history, and is on target to do so again this year.
Eleven years after its last website went live, Rega's Chief Product Designer, Colin Dilliway and Sales and Marketing Manager Simon Webster approached Essex-based sustainable design agency Zero Above to create a new, responsive website that would bring the brand up to date and showcase its products to its global fan-base.
Simon Isaac, Strategy Partner at Zero Above says: 'We were very excited to be approached by Rega because we admire the brand, its fantastic history and products, and respect its ethos as an organisation. There is an incredibly strong work ethic there and alongside the founders, most of the workforce are qualified engineers who have a genuine love of design and music. Rega has created a team and an environment that has earned the company a place as one of the world's biggest and most respected hi-fi brands and it's wonderful to see true British design and engineering at work."
Designed for hi-fi enthusiasts, Rega's new website includes a timeline for every product ever designed and made by the company, alongside detailed images and specifications on the current product portfolio. Simon adds: "The photography included a six-day shoot for the products alone; we wanted to show the sheer design beauty and intricate quality of every component, and it's been fantastic to work with such an eminent example of British design and manufacturing."
Simon Webster, Rega Sales and Marketing Manager said: "We are delighted with the new site. With a diverse customer base across the world, it was essential for us to have a user-friendly, accessible website that utilised mobile technology. From a design perspective, it was an opportunity to celebrate our history and showcase new technology and we are delighted with the results. We've already had really positive feedback from hi-fi forums around the world."
Visit the new Rega website at http://www.rega.co.uk.