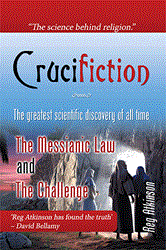 United Kingdom (PRWEB) September 17, 2013
Author Reg Atkinson has seen things that most people would not believe: he has witnessed the injustices of the world social system, the product of religion and its offshoots of despicable pseudo-economic and political policies. This has led him to take a stand, to give readers a dose of truth in "Crucifiction: The Messianic Law and The Challenge," a bold and audacious attempt to chip away at the yoke of oppression that has shackled man since time immemorial.
Regardless of one's religious persuasions, one cannot help but wonder what it is all about. One cannot help but ask the eternal questions: "Who am I? What am I? Why am I? How did I get here?" These are simple questions which every religion in the world strives to answer – but their answers are not always the same. It would be nearer to the truth to say that they are never the same answers. All over the world, hundreds of religious institutions all offer the ultimate truth with answers that contradict each other. In this book, Atkinson seeks to separate fact from "Crucifiction."
"Crucifiction: The Messianic Law and The Challenge" is the science which proves that a world with the present social system is lost. That understanding, accepting and implementing the demands of the Messianic Law is the solution to the problems inherent in this loss and the precursor to Paradise Earth. It answers all the questions that religion, economics and politics have failed to answer, and it shows the way to creating a better world.
"I want them to take from this book, the truth, that will set them free, from the pain of hunger, illness, ignorance and false beliefs," says Atkinson, when asked as to what readers will gain from his opus.
He gives his readers a mentally and spiritually challenging volume that will blow their minds and give them time to reconsider and realize the truth. "Crucifiction: The Messianic Law and The Challenge" is a work unlike any other, one beyond tradition, containing truths long searched for by man.
For more information on this book, interested parties may log on to http://www.XlibrisPublishing.co.uk.
About the Author
Reg Atkinson was born into a fanatically religious Catholic family. At 7 he was an altar boy, at 12 he was "called by God" to the priesthood but was expelled after only one year - by a priest who sexually abused him – for talking about girls. Condemned to "infinite torment for eternity" by his church teachings for, among other things, "crucifying God," Atkinson became a mental wreck. At 16, alone in a church begging for help and forgiveness, "God" in an audible voice, made him a promise. This book results from that promise. Atkinson spent 30 of his following years in Africa where he was in turn a teacher, the general manager of a lock manufacturing company, built and managed his own farm, factory and shops and contributed a weekly column to a national newspaper. From this column, he informed his readers about the thieving practises of banks, the dishonesty of politicians and the bigotry of religious institutions. Not surprisingly, there was a price to pay. Atkinson now lives in his native England where he does a 55 hour week menial job for pittance wages. He speaks French and plays golf when he can afford it.
Crucifiction * by Reg Atkinson
The Messianic Law and The Challenge
Publication Date: July 19, 2013
Trade Paperback; £16.99; 493 pages; 978-1-4836-6352-4
Trade Hardback; £26.99; 493 pages; 978-1-4836-6353-1
Ebook; £3.99; 978-1-4836-6354-8
Members of the media who wish to review this book may request a complimentary paperback copy by contacting the publisher at 800-056-3182. To purchase copies of the book for resale, please fax Xlibris at 44-203-006-8880 or call 800-056-3182.
For more information, contact Xlibris at 800-056-3182 or on the web at http://www.XlibrisPublishing.co.uk.