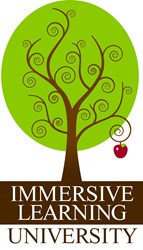 Attendees have told us every year that the practical tips they learn from experienced developers at the event have transformed their training initiatives, and we look forward to more fantastic experiences in 2014 --Dean Fouquet NexLearn VP
Wichita, KS (PRWEB) September 19, 2013
Registration is now available for the 3rd Annual Immersive Learning University Conference and Symposium. The conference will be held January 27-30, 2014 at the Doubletree by Hilton Hotel and Suites in the Historic District of Charleston, SC.
The ILU Conference will once again include workshops exploring new and innovative applications for Immersive Learning and Simulations from some of the most experienced practitioners in the field, including features and functions discussions for those interested in NexLearn's simulation authoring and implementation technologies. The conference will also feature case studies, best practices, peer discussions, technology Q & A sessions, future solutions discussions with NexLearn product managers, and networking opportunities. Clark Quinn, PhD and Andy Peterson, PhD will be the featured keynote speakers for the event.
"We're thrilled to be hosting the ILU Conference and Symposium for the third year running," said Dean Fouquet, NexLearn's vice president of vertical markets. "Attendees have told us every year that the practical tips they learn from experienced developers at the event have transformed their training initiatives, and we look forward to more fantastic experiences in 2014."
To register for the 3rd Annual Immersive Learning University Conference and Symposium or for more information about the event, visit http://www.ImmersiveLearningU.com and select "Register." Information about group pricing and other discounts are available. Conference attendees will also receive a complimentary copy of NexLearn's simulation design software, SimWriter Simplicity.
About the Immersive Learning University
The Immersive Learning University is chartered to provide the learning development industry with practical and advanced knowledge in the science of creating, producing, and deploying interactive learning courseware. The ILU is staffed with professionals possessing the highest level of experience and expertise in the industry of immersive learning and simulation development. To learn more, visit http://www.ImmersiveLearningU.com.
About NexLearn
NexLearn is a custom education courseware developer and toolset developer with extensive expertise in creating immersive learning simulations. The company's experienced, award-winning team has introduced some of the most innovative courses, tools and technology to the e-Learning industry, including the award-winning SimWriter immersive learning simulation authoring tool and CareerMap learning management system. For more information about NexLearn and SimWriter, visit the NexLearn Web site: http://www.NexLearn.com