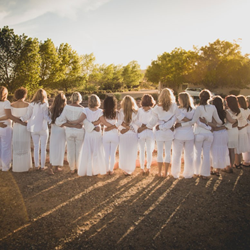 Goddesses! Awaken to your best life yet!
SEDONA, Ariz. (PRWEB) January 15, 2019
The Sedona Goddess Empowerment Retreat, co-facilitated by Shamanic healer and soul guide Anahata Ananda and Janet Farnsworth, a nationally recognized yoga teacher and women's empowerment coach, will take place April 24-28, 2019 at the Sedona Mago Retreat Center and is now open for registrations. This multi-day, ladies-only retreat dedicated to awakening the Divine Feminine Goddess within, is sponsored by Shamangelic Healing, Sedona's premier center for Shamanic healing and spiritual awakening.
"As caregivers, professionals, mothers, wives, teachers, healers and leaders, women are, in many ways, the heartbeat of our communities," said Anahata Ananda, founder of Shamangelic Healing. "While juggling these many roles and responsibilities, it is vital that women receive the support, rejuvenation, guidance and nourishment they need to remain balanced, centered, healthy and radiant," she added.
Now in its seventh year, the Sedona Goddess Empowerment Retreat features opportunities for soul-sisters to connect, expand, express, nourish, laugh, journey awaken and thrive. Participants will learn tools and practices to help them maintain a healthy, balanced lifestyle while also deepening their connection to self and others. The 2019 retreat, priced between $1995 - $2395, includes double/single room accommodations in cozy casitas and buffet-styled meals at the Sedona Mago Retreat Center, located in Arizona's pristine desert wilderness just 30 minutes from Sedona's city center.
The four-day itinerary includes interactive workshops and sharing circles which offer a sacred environment for women to express themselves, experience healing and awaken spiritually. Soulful land journeys, labyrinth walks and Shamanic ceremony and rituals will provide the invitation to connect with nature and experience the healing power of Sedona's energy vortexes. Cleansing and nourishing physical activities such as sacred movement, restorative yoga, meditation, Shamangelic Breathwork and sound healing journeys will provide the ultimate gift of both relaxation and rejuvenation.
"This retreat is really about the power of sisterhood—the strength we have in numbers and the power we gain by lifting one another up through sharing, caring, connecting and building new relationships with one another," said Anahata. "As was practiced in ancient times, women coming together and sharing is a priceless gift. Now more than ever, we need this gift to affect positive change in the world"
The intimate Goddess Retreat has limited spaces so those interested should register online soon at Shamangelic Retreats. Optional, private Shamangelic Healing Journeys with Anahata are also available on the days prior to and after the retreat.
Anahata Ananda has trained extensively with gifted shamans, energy healers and spiritual teachers from north America, Peru, India and Asia in order to artfully integrate the fields of self-empowerment, shamanic teachings, emotional release, energy healing, relationship counseling, spiritual studies, yoga, meditation and empowered living. She has completed the highest level of global coaching certification program with Brendon Burchard. Anahata is a certified yoga teacher and master meditation teacher.
Janet Farnsworth is a nationally recognized yoga teacher, somatic therapist and women's empowerment coach. A certified Kripalu Yoga instructor and body-centered psychotherapist based in Austin, Texas, Janet facilitates a variety of movement meditation journeys for people of all ages. Her business, The Practice of Now, is a model of open, heart-based movement that honors each person's instinct as a means of connecting to one's highest and deepest wisdom.
For those unable to attend the retreat, Anahata offers a variety of Shamangelic Healing services year-round, including private sessions, sacred land journeys and training courses that incorporate Shamanic teachings and other energy healing modalities. She also offers Tailored Retreats for individuals, couples and small groups that can include a combination of private healing sessions, sacred land journeys and other offerings based on various needs and areas of interest.
Shamangelic Healing is a premier center for Shamanic healing and spiritual awakening in Sedona. It is conveniently located in Uptown Sedona close to restaurants, shopping and hiking trails.
For detailed descriptions and a calendar of all training courses and spiritual awakening services offered by Anahata visit http://www.shamangelichealing.com/