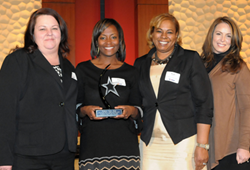 Atlanta, Georgia (PRWEB) April 10, 2014
The award for a One-Time Only Event was presented by Belfor Property Restoration. The GHLA pays annual tribute to "honor lodging employees and properties that best symbolize the quality service of the industry." Regency Suites Hotel earned the honor for Division 1 properties (those hotels in the state with 150 or fewer rooms). State winners like Regency Suites will also be considered for the national honor.
The Regency Suites Hotel is an upscale, all suite boutique hotel conveniently located within walking distance of Midtown Atlanta's attractions and restaurants. The staff is proud of its award winning service that has earned accolades since 2006 including awards for Manager, General Manager, Room Keeper and National Lodging Employees of the Year. The hotels' ideal location and intimate atmosphere paired with award-winning service make the facilities a great choice for both corporate and social functions.
If you are interested in hosting an event in Atlanta, we'd be proud to have you contact us. Request for proposals may be submitted at http://www.regencysuites.com/rfp/.