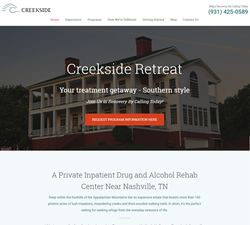 If we can encourage visitors to stay on our website for a few more seconds, we may have the opportunity to change someone's life forever
Taft, Tennessee (PRWEB) October 21, 2016
Creekside Retreat is unveiling a new website to replace its previous layout. The new website puts an emphasis on the facility's specialized approach to addiction recovery. With improved navigation, relevant treatment information, and a number of high-resolution facility images, Creekside Retreat strives to provide prospective clients and their families with the information they decide about entering a rehabilitation program. Explore the newly designed website at https://creeksideretreattn.com/.
Addiction Recovery Center Responds To Need For Optimized Site
Creekside Retreat offers specialized addiction treatment therapies for men aged 21 and older. The new website delivers a user experience to cater to the facility's target demographic as well as family members who may help those suffering from addiction. A newly designed website offers benefits, including improved searchability, information accessible on any device, and the ability to explore the property before a prospective client calls the facility to learn more about the programs.
"The newly designed website is our way of providing a better treatment experience from start to finish," Creekside's Chief Operating Officer Frank Buonanotte said. "When men who suffer from addiction can easily find the information they need to choose rehabilitation, they are more likely to enter into permanent recovery. We want to show our prospective clients the possibilities when they choose to work with the professionals who dedicate their lives to addiction rehabilitation here at Creekside Retreat."
Studies indicate readers may make a decision to stay on a website in as little as 15-30 seconds. A new website design can improve the time a prospective client stays on the website, and influence his likelihood to seek treatment for an addiction.
"If we can encourage visitors to stay on our website for a few more seconds, we may have the opportunity to change someone's life forever," Buonanotte added.
Creekside Retreat Focuses On Client Experience With Website Launch
The newly designed website takes this client-centric approach to the max with a focus on the experience of staying at and working on rehabilitation at Creekside Retreat. The facility combines a clinical approach with natural surroundings and holistic therapies to give clients the opportunity to completely and permanently heal. Creekside Retreat indicates that clients often come for the experience and stay because they make real progress.
Facility Location
Located in Taft, within view of the Appalachian foothills, Creekside Retreat is on a 105-acre horse farm. The gated facility features an abundance of greenery, a flowing creek, and several amenities that make Creekside Retreat feel more like a getaway than a treatment facility.
Treatment And Therapy
Treatment programs vary from person to person. Every individual who struggles with addiction has a different background and a different physiology. Specialists at the facility create each treatment regimen based on individual needs, addiction types, and the time the client can dedicate to recovery.
Clinical Therapies
The clinical treatments available on the property mimic the therapies found at other rehabilitation facilities. Creekside Retreat chooses to focus on three different types of cognitive behavioral therapies. Dialectical behavioral therapy (DBT) focuses on teaching skills individuals can use to cope with negative thoughts and emotions on a daily basis. Solution-focused therapy (SFT) focuses on creating and achieving goals rather than dwelling on the past. Rational Emotive Behavioral Therapy (REBT) involves recognizing and confronting negative thoughts so the individual can express his emotions in a more constructive way.
Holistic Recovery Services
In addition to clinical treatments, Creekside Retreat offers additional treatment options that can enhance the outcomes of counseling services. Art therapy, massages, chiropractic sessions, yoga, qigong, acupuncture, and other treatment methods often relieve stress and allow clients to work on the skills they learn during individual and group therapy sessions. These practices often become lifelong habits for maintaining balance in the real world.
Equine-Assisted Psychotherapy
Few rehabilitation programs in the US provide equine-assisted psychotherapy. Creekside Retreat has an EAGALA-certified specialist on staff to help with the treatment programs. Rather than learning to ride, clients learn how to create a relationship with a horse based on trust, care, and positive human emotion. The program helps clients build emotional and socialization skills, set boundaries, and learn how to successfully resolve conflict.
Retreat Amenities
Onsite, clients enjoy high quality nutrition, nature trails, boating recreation, gardening opportunities, outdoor games, and time with a certified therapy dog. The inpatient facility offers all the resources recovery substance abusers need to develop a permanent path to recovery.
About Creekside Retreat
Creekside Retreat is a new rehabilitation facility in Taft, Tennessee, that focuses exclusively on substance abuse and co-occurring disorders therapy for men aged 21 and older. The treatment facility provides high quality clinical treatment alongside holistic therapies to give each client the skills needed to succeed when he leaves the gated community and heads back to life. Read more about the facility on our new website at https://creeksideretreattn.com/.