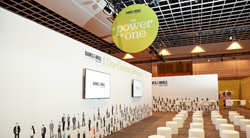 NEW YORK (PRWEB) May 21, 2019
Multidimensional branding + design studio reitdesign announced today the win of 1 Gold & 5 Silver Communicator Awards for work on 5 different clients in addition to its own holiday promotion:

Gold for reitdesign's 2018 Holiday Promo
Silver for Barnes & Noble College's Trade Show Branding
Silver for Global Pet Expo's Trade Show Branding
Silver for Javits Center's 2018 Annual Report
Silver for New York International Auto Show's 2018 Annual Review
Silver for Washington Market Park's Movie Poster
To date in its 24-year history, reitdesign has won 69 marketing & design awards for a wide range of projects and businesses, underscoring the studio's facility to translate business needs into effective marketing strategies.
GOLD: reitdesign's 2018 Holiday Promo
reitdesign deploys its entire team annually to concept, design and execute a custom holiday package to thank its clients and deliver a unique and useful gift. In 2018, the theme was self-care, providing products and services to de-stress from the uber-active lifestyles they lead. The custom-designed boxes were filled with four loose teas from the iconic McNulty's Tea & Coffee Co, along with a diffuser and branded items for memorability, such as a glass mug and coasters.
While sipping the teas, users could peruse a card featuring hidden oases in New York City where one could relax and renew: Nap New York, The Alchemist's Kitchen, The Inscape Studio, Breathe Salt Rooms, or the Conservatory Garden.
SILVER: Barnes & Noble's 2018 Trade Show Branding
Barnes & Noble College hosts a yearly sales conference in Orlando for its 1,000 bookstore management & home office team, and vendor partners, and since 2004, reitdesign has branded the event, provided creative direction, marketing and educational materials and on-site execution.
This year, reitdesign centered the show's theme around the tagline "The Power of One." Using custom-created illustrations, images of people representing the diverse B&N audience of students, parents, faculty and University executives were featured in grayscale. Within this array of people, B&N employees were featured with pops of color and an ampersand on their clothing— all with the goal of highlighting how one person can standout, make a difference and be so powerful.
Working with the established brand campaign, these elements were translated into a multitude of deliverables in print, digital and environmental platforms. First, a mobile-friendly microsite was created, incorporating the Show's schedule, exhibitor listings and an interactive floor plan. The tradeshow show floor included an interactive presentation area designed to move groups of 100 through three learning spaces. Hotel signage and wayfinding, presentation graphics, wall clings, digital screens, printed guides and even a souvenir tote bag provided an immersive experience for all attendees.
SILVER: Global Pet Expo's 2019 Trade Show Branding
The Global Pet Expo is the preeminent pet industry trade show held annually in Orlando, Florida for which reitdesign has been creating unique branding and show materials for the last 8 years.
In 2019, the reitdesign team developed and executed a brand campaign that captured the show's unique status: "The One Show to Attend." Coupled with the tagline "The Premier Industry Event," the campaign generated excitement about the show, underscoring its position as the ONLY annual pet products show exhibitors and attendees needed to attend.
The theme was executed using custom illustrations of animals, formed into a myriad of designs and patterns, to brand all event messaging, with a soft, 3-color palette selected to lend a professional, yet playful tone. Campaign elements including over 300 ads as well as posters, postcards and brochures – in both digital and print formats – and adapted for use within the Show's event banners and signage.
SILVER: Javits Center's 2018 Annual Report
In 2014, reitdesign was awarded Agency of Record for the Javits Center to assist in a strategic rebranding of the organization's many communication tools, including their annual report, which is used to deliver critical information about outcomes and future plans to stakeholders.
The 2018 edition featured a bright yellow cover with custom icons relating to the Center's team and special programs with the inside divided into sections featuring new initiatives within the organization - such as harvested honey on the green roof & a state of the art on-line ordering system - as well as exciting developments outside the center, such as the ongoing expansion of the facility and the development of the new Hudson Yards area. The report was characterized by stunning images of the photogenic space, as well as large quotes and impressive infographics, highlighting Javits Center's efforts and impact, in terms of efficiency, sustainability and NYC's economy.
SILVER: New York International Auto Show's 2018 Review
As the country's oldest and most prestigious automobile trade show, the New York International Auto Show's marketing materials must reflect the glamour, style and innovation that set this event apart. The Annual Review is an essential tool with which to entice manufacturers to take part in next year's Show while also proving the investment's value and worth to car manufacturers.
For the 2018 Review, reitdesign created a sleek black matte cover topped with a coated plasticized dome of NYIAS's logo, die cut to a 3 x 3 square. The pages within used a combination of colorized images of NYC with photos highlighting events and people who attended the Show. In addition, a pocket on the inside back cover housed a 9" x 5" accordion-style, mini brochure with key stats, contact information and details about the 2018 Show.
SILVER: Washington Market Park's Movie Poster
Washington Market Park is Tribeca's neighborhood park for relaxing, playing with kids and escaping the frenzy of downtown Manhattan and reitdesign regularly creates posters to alert the community about events being held and to encourage membership and support.
For the 2018 "Movies in the Park" Event, reitdesign created a custom-illustrated poster. Working with elements from the movies Jumanji and Wonder Woman, the design was a representation of a whimsical jungle inclusive of custom drawn animals and a fierce rendering of Wonder Woman.
Images of the related work can be found here.
For more information about our work and services, visit http://www.reitdesign.com or contact liz@reitdesign.com.
About reitdesign:
reitdesign is a multidimensional branding and design studio based in New York City. For over 23 years, they have worked with industry leading brands from start-ups to Fortune 500 corporations on a full slate of strategic and creative services including branding, content, print, digital and environmental. A portion of studio time is also dedicated to community projects and non-profit organizations.
About Communicator Awards:
The Communicator Awards is the leading international awards program recognizing big ideas in marketing and communications. Founded over two decades ago, The Communicator Awards receives over 6,000 entries from companies and agencies of all sizes, making it one of the largest awards of its kind in the world.