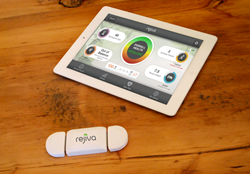 Think of Rejiva as a window into what's happening inside your body. More than just metrics, more than counting steps, it gives you insights you can use to stay healthy and feel your very best everyday
Pittsburgh, PA (PRWEB) October 20, 2014
The first of its kind, rejiva® is the most complete wearable technology to measure and manage overall health, day and night. No other wearable health technology on the market can deliver all that Rejiva can.
It uses an FDA-registered, wearable monitor with corresponding app to reveal insights and tools that can improve health, reduce stress, increase energy, improve rest, identify potential health threats, which can mean a longer, fuller life.
In the final stages of development, the company will launch a crowdfunding campaign via Indiegogo on October 20, 2014 which will offer backers a discounted rate as low as $99 with advance delivery. Once live, the campaign can be found at: http://igg.me/at/rejiva.
Developed by a renowned Pulmonary/Critical Care and Sleep Medicine physician and a team of Carnegie Mellon University innovators and engineers, Rejiva allows users to view, understand and respond to vital signs and additional data collected in five key areas:

Overall Health – captures health changes and possible health threats early
Stress – manages existing stress and builds a strong stress resistance
Biological Aging – appraises biological age to slow the aging process
Energy – tracks energy level, expenditure, and indicates the best times to be active
Rest – monitors restfulness, rest efficiency, rest position and breathing index
"Good health can't be purchased in a doctor's office. It is a lifelong pursuit, and Rejiva provides the roadmap," says Raj Kapoor, MD, FCCP, President and Chief Medical Officer of parent company Rijuven. "There are many important clinical factors that influence our overall health and well-being. It was important to us that Rejiva offer insights into all of these key components – not just activity or sleep."
Around 52 percent of consumers are interested in buying wearable health technology (Accenture Digital Consumer Tech Survey, 2014); however, research also states that existing products have failed to create sustained engagement (Healthcare IT News, 2012). Rejiva was developed with sustained engagement in mind, including a proposed connection with Apple's recently unveiled iOS 8 HealthKit.
"Rejiva was designed to encourage sustained use," adds Kapoor. "We want to empower individuals with the knowledge and tools to improve their health and lead longer, fuller lives. Increased activity and better sleep, alone, can't offer this. You need to see the entire picture and understand how it's all connected to affect real and long-lasting change."
Rejiva is a patented system that uses proprietary algorithms to assess health information collected from a discrete, wireless biofeedback and vital signs monitor that is applied to the chest. It is easy and comfortable to wear, using a skin-friendly adhesive that peels on and off. The unique application and long-lasting battery allow for extended wear, which encourages continuous data collection revealing trends and insights specific to the user.
Drawing on validated medical technology and research, the water-resistant device analyzes vital signs and biofeedback metrics such as ECG, heart rate, heart rate variability, respiratory rate, sleep position, posture, sleep breathing index, energy level and analyzes the state of the Autonomic Nervous System (ANS). This is the part of the nervous system that involuntarily controls the organs and systems of the body. Since the ANS helps the body adapt to both internal and environmental demands by maintaining a physiologic balance, it is the "first to know" of any unforeseen issues that could affect one's overall health.
Rejiva is the first device to harness the proven science of ECG-derived heart rate variability to evaluate the ANS, and combine essential vital signs and user assessments to understand and improve overall health. This technology has never been so accessible, affordable – or as easily understood and applied. Rejiva makes this all possible.
"Think of Rejiva as a window into what's happening inside your body," explains Kapoor. "More than just metrics, more than counting steps, it gives you insights you can use to stay healthy and feel your very best everyday."
About Rijuven:
Rejiva is a product of parent company Rijuven, founded in 2012 by Raj Kapoor, MD, FCCP, and Evens Augustin, Biomedical Engineer. Their mission is to create innovative clinician-supported products that empower individuals to exert better control over their overall health. Providing greater access to health-related information — and the tools to take proactive steps to stay healthy — will ultimately drive down health care costs and improve quality of care. Learn more at http://www.rejiva.com.