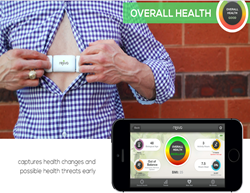 We are truly at the intersection of consumer and medical.
Wexford, PA (PRWEB) December 02, 2016
Rijuven Corp launches rejiva (http://www.rejiva.com), a unique wearable technology that measures and manages stress and overall health, day and night. No other wearable health technology on the market can deliver all that rejiva can.
"Rejiva promotes relaxation and stress management. We wanted to give poeple more meaningful insights about their health than the usual heart rate and steps taken", adds Evens Augustin, CEO of Rijuven. "We are truly at the intersection of consumer and medical". It's very well known that stress can contribute to many health problems, such as high blood pressure, heart disease, obesity and diabetes. Rejiva provides a way for people to manage stress in their daily lives. It is easy and comfortable to wear, using either a chest strap or a skin-friendly adhesive that peels on and off.
It uses an FDA-registered wearable monitor with corresponding app to reveal insights and tools that can improve health, reduce stress, and identify potential health threats.
Rejiva puts users in a unique category and allows them to view, understand and respond to vital signs and additional data collected in five key areas:

Overall Health – captures health changes and possible health threats early
Stress – manages existing stress and builds a strong stress resistance
Heart Beat Index – provides insights into the dynamics and variability of the heart beat
Activity – tracks energy expenditure, and sedentary behavior
Rest – monitors restfulness and rest efficiency.
Rejiva is the first consumer device that uses medical grade sensors to harness ECG-derived heart rate variability to evaluate, understand and improve overall health. This technology has never been so accessible, affordable – or as easily understood and applied. Rejiva makes this all possible.
The company is currently looking to partner with service providers to implement stress management as part of employee wellness programs, collect patient data in clinical trials settings and partner with other companies that can utilize the technology in other applications.
About Rijuven:
Rejiva is a product of parent company Rijuven Corp. Their mission is to create innovative products that empower individuals to exert better control over their overall health. Providing greater access to health-related information — and the tools to take proactive steps to stay healthy — will ultimately drive down health care costs and improve quality of care. Learn more at http://www.rejiva.com.