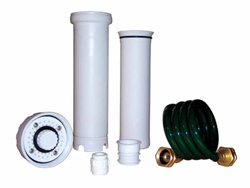 Reuse the same rollerjob after job!
Issaquah, WA (PRWEB) May 01, 2014
As a major online supplier of home improvement tools, TheHardwareCity.com is consistently enlarging their inventory of innovative and useful products. This month, the addition of the new Rejuv-a-Roller paint roller cleaner by Timeless Innovations, Inc. has enhanced the company's extensive list of paint supplies.
The new roller cleaner saves painters time and money because it allows them to use the same roller again and again for many different projects or paint colors. Paint rollers can now be completely and rapidly cleaned in seconds with the Rejuv-a-Roller. The roller cleaner can be hooked to any faucet, making it universally easy and convenient to use. Since it requires no power, it can save energy and cleanup hassle. Painters and homeowners will appreciate the no mess method, as they are able to place a paint roller in the mechanism's container, close it, and let water pressure do the work. The cleaning tool saves people from having to dirty their hands while washing up paint instruments.
The Rejuv-a-Roller that is now available for purchase through TheHardwareCity.com offers versatility, since it can be used to clean up any type of latex or water based paint. Other finishes can be washed off of instruments quickly, such as textured coatings, wallpaper paste, stains, clear coats, and more. The tool's high pressure water head can be used for a number of paint tools besides just rollers, including brushes, edgers, and pans.
TheHardwareCtiy.com offers a 44% discount when ordering the Rejuv-a-Roller through their store. They also offer customers free shipping for the new and innovative tool. Homeowners and painters can experience convenience by browsing and purchasing through the online hardware store right from their home or office and receive direct shipping for free.
About TheHardwareCity.com:
TheHardwareCity.com has provided convenience in shopping for home improvement tools since its founding in 2007. As a leader in the online hardware store industry, they have continually enhanced their inventory to include top products that are useful to consumers. Many home improvement supplies are offered at a discounted price with free shipping. Hardware and tool experts are available to answer any questions about their products through online chat every weekday. Supplies can be found for numerous projects including paint, heating and cooling, bath, farm and automotive, lawn and garden, and much more at http://www.thehardwarecity.com/.