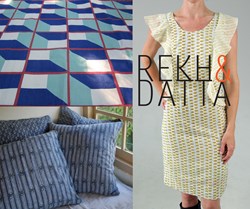 When I was studying the traditional technique in my research, I was also looking at the modern, industrial forms around us that are part of our contemporary era.
Austin, TX (PRWEB) December 10, 2013
An Austin artist brings the ancient art of Indian wood block printing to a present-day fashion fair and sustainable business model. Rebecca Layton spent years studying the detailed methods of this art form while living in Jaipur, India, where block printing on fabric has been practiced for centuries. Layton's company, Rekh & Datta, uses her modern, timeless designs to make subtle voile fabrics for an original line of clothes, accessories and housewares. The launch of Rekh & Datta is featured as a Kickstarter campaign that will run through January 10, 2014.
To create her fabrics, Layton employs artisans from the local villages near Jaipur, India. The Hindi words rekh and datta are technical printing terms meaning line and shape. Each wood block is carved by hand. Each block is hand-printed with sustainable dyes on Indian cotton by hand, one block for each color. The geometric prints are partly inspired by the modernists of the earlier 20th century: the Bauhaus weavers, the textiles of the Wiener Werkstatte, and the patterns of Sonia Delaunay.
"When you combine something that is hand printed with more hard-edged, geometric shapes, you come up with curious hybrids," Layton says of her designs. "When I was studying the traditional technique in my research, I was also looking at the modern, industrial forms around us that are part of our contemporary era. Combining the handmade and the industrial is what I find most intriguing."
Layton first studied block printing in India in 2005, later returning in 2010 to study as a Fulbright scholar. During her travels in India, Layton met Polish designer Monika Jakubiak. With Jakubiak's help, Layton has transformed her collection of soft, hand-printed cotton voiles into light-hearted, airy dresses and tops.
"In the past, I've worked mostly alone in my studio with the materials at hand," Layton says. "But in India, I was working directly with artisans – the men who carved the wooden blocks, the printers who print block by block. Then I met and collaborated with a clothing designer to transform these printed fabrics into beautiful garments. It's a long, collaborative effort with many hands involved in the process."
The current line consists of beautifully crafted scarves, knickers + cami set, women's and men's tops, several dress styles and a throw pillow. Items range from $70 to $300 and are available on Kickstarter.
For more information, including photos and video, please visit the Kickstarter campaign, visit the company's website http://www.rekhdatta.com, follow Rekh & Datta on Twitter or like them on Facebook.
For media inquiries please contact Dana Callender at dana(at)stellarimpeller(dot)com or 765-201-5537.
About Rekh & Datta
Rebecca Layton founded Rekh & Datta in 2013. The design studio produces a limited line of clothing and housewares made from original fabrics hand-printed in Jaipur, India. Rekh and Datta are the Hindi words for line and shape and refer to the technical terms of the block carving and printing process, which is at the heart of the company.
The company believes in making "slow clothes," which are made with quality and care by highly skilled artisans who are paid a fair wage. It combines modern designs with traditional ancient Indian block printing techniques. Additionally, Rekh & Datta never uses middleman. The company knows every single person involved in hand-printing the fabric and stitching the clothing.