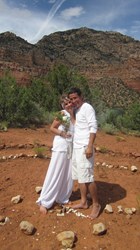 Anahata is a wise and wonderful angel that guided our renewal of vows ceremony in Sedona so beautifully. She gave us a deeper understanding of ourselves and enhanced our love for each other.
Sedona, Arizona (PRWEB) August 20, 2013
According to the U.S. Census Bureau, the divorce rate in the United States is over 50%. 41% of first marriages end in divorce. 60-73% of second and third marriages end in divorce. With drug and alcohol addictions, infidelity, domestic violence, parenting difficulties, economic stresses and emotionally wounded adults, our relationships are in trouble. Shamangelic Healing with Anahata based in Sedona, Arizona is addressing this reality by offering a wide range of services to support couples wanting to maintain healthy conscious relationships. Through contemporary couples counseling, Couples Retreats, workshops and on-line resources, couples now have a chance to heal, learn and grow together.
As a growing number of couples become disenchanted with the traditional approaches to couples counseling, more are turning to alternative approaches for deep soulful healing, empowered tools and lasting results. Sedona, Arizona, is one of the meccas for conscious progressive healing resources. Droves of seekers are being called to Sedona to explore the wisdom that alternative approaches, Shamans and powerful land energies have to offer. Sedona's breathtaking beauty and energy vortexes combined with the influence of Conscious Healers and Native American cultures, provides the perfect setting for rejuvenation and healing. Sedona Arizona's premier center for Shamanic Healing and Spiritual Awakening, offers a full complement of Healing Sessions, Personalized Retreats, Sacred Land Journeys and Energy Healing courses for individuals, couples and families.
During personalized retreats, Anahata of Shamangelic Healing tailors a program of specific private and joint sessions to support the challenges an individual, couple or family is facing. Core healing of any personal wounds, coupled with sacred land journeys and empowerment sessions all provide new perspective and valuable resources to re-establish trust and renewal of mutual respect. Participants learn to expand the capacity of their heart to give unconditional love; establish clear boundaries and agreements; release tension, frustration and resentment and empower themselves in all relationships. Participants depart with practical tools to integrate into their lives along with ongoing counseling support to address any challenges and ensure the concepts are implemented.
The Shamangelic Healing Center now offers group workshops on "Conscious Relationships-Keys to Maintaining Healthy Romantic, Family & Professional Relationships." Anyone can benefit from this content because the concepts addressed can be applied to any type of relationship. The new paradigm for conscious relationships is birthing. It is time to upgrade the old paradigm which is laden with codependency, avoidance, conflict, blame, control and fear. New principles are required in order to maintain conscious relationships based on unconditional love, respect, accountability, sovereignty, clear agreements, compassion and expansion. In this workshop, dynamics of various relationships are explored. Participants learn valuable tools and concepts to help transition awareness to a new level of consciousness in relating to loved ones, colleagues and friends. Along with a library of on-line resources including a free MP3 recording and PDF document of "7 Tools to Improve Your Relationships" there is renewed hope for the relationships that support the fabric of our society.
The Shamanic Healer and Counselor Anahata, has trained extensively with gifted shamans, energy healers and spiritual teachers from Peru, India, Asia and North America in order to artfully integrate the fields of couple/family dynamics, energy healing, self-empowerment, shamanic teachings, emotional release, spiritual studies and visualization techniques. Blending the compassion and tenderness of an Angel and the wisdom and strength of a Shaman, Anahata guides journeys of profound healing and awakening. Her extensive client base spans the globe and includes business professionals, parents, couples, healers and individuals of all ages, who seek to heal and awaken their fullest potential.
Anahata is the founder of Shamangelic Healing based in Sedona, Arizona. Clients seeking Spiritual awakening, transformational healing services, conscious relationship counseling, sacred land journeys or training courses choose from a wide range of options in order to create a tailored personal experience. Anahata's Shamangelic Healing Sanctuary is nestled beneath Sedona's famous Thunder Mountain, with 360 degrees of breathtaking views, walking distance from an ancient medicine wheel and healing vortexes, making this the perfect setting for healing and expansion.
For detailed descriptions of the Conscious Relationship Resources, Shamanic healing sessions, ceremonies, land journeys and training courses offered by Anahata visit http://www.ShamangelicHealing.com