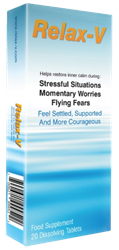 For the first time ever, I was able to read my book and visit the ladies. I nearly hugged the air hostess leaving the plane!
Nottingham, UK (PRWEB UK) 7 November 2014
Incredibly there are 12 million people in the UK who have a fear of flying, or flying phobia; that's a staggering 20% of the UK population and a headache for the aviation industry. Fear of flying sufferers are acutely aware that even short haul flights can be a hellish ordeal to get through; from checking in, going through security, waiting to board, even approaching the airport can be terrifying. For Louise Murphy, Director of EJM Beauty Ltd it was just that. From an early age, Louise had a fear of flying. She knows only too well, as an international business woman that her phobia has significantly affected her daily business life.
"Working with international customers, I have to get on a plane and attend meetings," she says. "I've tried everything. You name it, I've tried it, including two rounds of hypnosis! But two years ago I came across Relax-V. As I'd tried everything else, I thought 'what have I got to lose'. On approaching the airport when I felt the sudden rise of panic and anxiety, I took one tablet. After just a few minutes, I felt a sense of calm that I've never felt before. To keep my nerves, I took another two tablets at security and one before the plane took off. The state of anxiety and panic I normally felt, listening out for the noise of the engine, terrified it might stop, never actually materialised! For the first time ever, I was able to read my book and visit the ladies. I nearly hugged the air hostess leaving the plane! Relax-V has changed my life. I can now look forward to family holidays and attend business meetings, knowing that I am less stressed at the airport and, more importantly, I am relaxed and focused for the day ahead."
Following the successful launch of Relax-V to the Republic of Ireland pharmacy market, Tower Health is excited to announce a partnership with EJM Beauty Ltd to launch Relax-V here in the UK. Tower Health has been a market leader since 1999, supplying natural health and beauty products. This ideal partnership increases Tower Health's ever expanding portfolio of natural health brands.
So, how is Relax-V different to other remedies in the market? Firstly it is 100% natural, with no added preservatives or colourings and is alcohol free. Relax-V contains the active ingredient Isovaleric Acid, which has sedative-like properties, and helps to promote a sense of inner calm and relaxation during key stress, panic and anxiety situations. The science bit… Relax-V is a tablet, placed under the tongue with 70% of the tablet dissolved in around 3 minutes. Once dissolved, the Isovaleric Acid has an affinity for GABA Receptor Cells. The stronger the affinity the higher the potency, which in turn delivers a longer lasting effect.
Tower Health's in-house Superintendent Pharmacist Ruman Sharma says "The use of alternative medicine has long been established as a treatment option for those patients for whom conventional treatments are either unsuitable, based on medical background or by preference. Relax-V can play a role in helping and supporting anxious individuals to restore their inner calm during those stressful or fearful moments in life."
Relax-V is available to buy online on the Tower Health website priced at only £12.95 for a pack of 20 tablets.
Established in 1999, Tower Health is one of the leading natural health and online pharmacies in the UK. In the spring of 2014 a dedicated online pharmacy department was launched to offer both natural and pharmaceutical brands to an ever growing and aging population in the UK health market.
For additional information on Relax-V or Tower Health visit http://www.tower-health.co.uk. For all press enquiries please contact PR & Marketing Manager, Rebecca Leivers on 01159 778377.