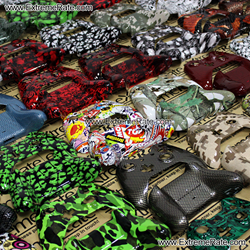 ExtremeRate Releases Over 60 Shell Designs for Xbox One Controllers
(PRWEB) May 05, 2014
ExtremeRate recently expanded their line of Xbox One controller shells since first launching the product two months ago. The shell series now includes chrome, hydro dipped, and polished designs that are available in over 60 different colors and patterns.
"We're receiving a lot of great feedback from our customers, and orders just keep coming in. This is just the beginning, though, and we plan on releasing more designs in the near future," said sales manager of the company, Rex Cao.
Even though ExtremeRate has been a top supplier of Xbox 360 controller shells for over 3 years, it's too early to say they will be the market champion for the new system's controllers. But CEO of the company Ray Zhu said, "Our goal is not to be the champion, but to make the best products available while offering the best service to our customers. We want to become their most reliable business partner, and we are sure that if we stick to it, the customers will help us stay on the top of the business."
When it comes to price, Rex Cao said, "In order to keep the prices low for our customers, we must reduce the cost of production, which is why we keep optimizing our production process. Our goal is to offer a product of sound quality at a reasonable price for all consumers."
Ray Zhu added, "Our next shell project involves the PS4 controller. We're looking towards a release date sometime in May."
For more information, visit http://www.extremerate.com.
About ExtremeRate:
ExtremeRate focuses on accessories for the pro-gamer, selling replacement controller shells, controller buttons, LED kits, controller and console skins, and protective cases. With all products strictly tested, we're proud to offer the best and most reliable products in the industry. We promise to complete your order swiftly by working effectively and rapidly.