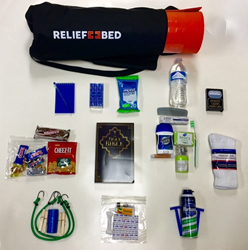 'I haven't been this excited about launching a new product since the inception of Relief Bed®,' beamed Smalling.
Tacoma, WA (PRWEB) May 27, 2016
Relief Bed International (RBI) will be hitting the road this weekend in a 70' long truck and trailer fully wrapped in its "message of hope" to provide awareness, education and support for better sleep to those who most desperately need a good night's sleep. The tour will run from Memorial Day weekend through Thanksgiving and cover a large portion of the US.
"We are thrilled to be finally leaving on our 'Mission of Hope,'" stated Scott Smalling, RBI Founder. "We have had this tour in the planning stages for months and also want to take this opportunity to thank our partners, Purple™ Mattress Company, Thermarest, Techno Gel® and Reverie® Bedding."
"We're excited and honored to be working with Relief Bed, and in helping its mission to change the world one bed at a time," said Tony Pearce, Co-founder and CEO of Purple™ (http://www.onpurple.com). "I've known Scott for years, and he's truly trying to help impoverished people around the world. It's the kind of mission we want to hitch our wagons to."
Throughout the tour, RBI will be making stops to donate their strategically built beds at homeless shelters, family shelters and women shelters which are run by organizations like the Salvation Army, Associated Gospel Rescue Missions and other regional non-profit organizations.
All online donations made during the tour will go to support RBI's international relief efforts through their partner, World Vision. Later this year, Smalling and a team from World Vision will be traveling to remote villages in Zambia, Africa, to deliver beds to medical clinics. To date, RBI has donated over 1,500 beds to homeless shelters and international relief agencies.
Relief Kit
Introduced this week, RBI has created a new humanitarian product called Relief Kit™. The Relief Kit™ was created after spending numerous nights with homeless organizations on search and rescue missions and learning what the most needed items are to survive on the streets.
"I haven't been this excited about launching a new product since the inception of Relief Bed®," beamed Smalling.
The Relief Kit™ consists of a closed cell foam sleeping pad to insulate and comfort the body from the cold and hard ground. This pad is weatherproof and rolls up into the Relief Kit™ carrying case with shoulder strap. The Relief Kit™ comes complete with socks, one of the most requested items on the street, flashlight, hygiene products, first aid, snacks, bottled water, twine, note pad and moist wipes.
"We also added things like playing cards, candy and a Bible to let them know they are loved," stated Jose Arreola, Tour Director.
The Relief Kit™ is now available for people to support on Relief Beds' corporate website.
For more information on Relief Bed International's mission or to make a donation, please visit their website: http://www.reliefbed.com, or you may contact them at: info(at)reliefbed(dot)com
About Relief Bed International
Relief Bed International provides innovative, strategically built beds for impoverished people in emerging countries, disaster relief and humanitarian organizations in North America. RBI is a 501©3 non-profit.
About Purple
Purple™ is the world's only "no pressure, no compromise mattress." Purple™'s proprietary hyper-elastic polymer enables the perfect column strength and heat dissipation to create the best possible sleep experience. The patented technology provides flawless support for the spine and back without noticeable pressure on the shoulders and hips. Please visit OnPurple.com to learn more about one of the most significant developments in sleep technology in the past 80 years.