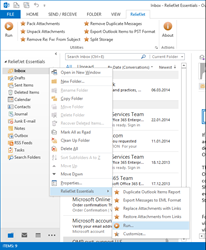 "Swiss knife" among Outlook add-ins...
Kaliningrad (PRWEB) May 20, 2015
Microsoft Outlook can be enhanced with many add-ins that extend its basic functionality. However, compatibility issues, conflicts between add-ins, crashes and slowdowns accompanying third-party plugins can greatly take the shine of the augmented Outlook operation. ReliefJet Essentials for Outlook solves the problem radically by providing an ultimate pack of 107 utilities that are seamlessly integrated into Outlook, and which provide answers to many common problems an Outlook user may have.
This "Swiss knife" among Outlook add-ins endows the mail client with many exciting capabilities including the "unique in the industry" command line support. Extreme importing and exporting capabilities for any Outlook items (messages, contacts, tasks etc.) gives maximum freedom when working with multiple data sources and email clients. Improved usability increases productivity of everyday messaging through new dialog windows and enhanced UI. Better work with email attachments allows the user to save all links or attached files from a message in one go. Advanced format conversion promotes fast and secure migration of millions of emails. The complete set of utilities offers almost everything an average user may ever need and regardless of the additions, it still works fluently in the background, not causing any clashes between add-ins or slowdown of Outlook operation.
The new version 3.7 features improved performance, tag-based navigation through utilities, new tools for managing, exporting and converting of Outlook's auto-complete lists, amongst other additions.
Pricing and Availability
ReliefJet Essentials for Outlook supports Microsoft Outlook 2003, 2007, 2010, 2013 and 2016 including 64-bit versions and works on Windows XP to Windows 10. Free trial is available. The pricing for ReliefJet Essentials starts from €49.95 per license for Personal Edition. The Professional Edition that includes an advanced command line tool for bulk processing of Outlook mailboxes and PST files, Exchange Public Folders and shared mailboxes files costs €199.95 per license. In addition, Relief Software offers an option to purchase any single utility for €14.95 only. More details available on the product's purchase page.
About Relief Software
Relief Software has been operating in the software market since 2008. The company develops productivity and mailing software, with many major companies (Intel, Microsoft etc.) and national governments (USA, Canada etc.) successfully using Relief Software's powerful tools.