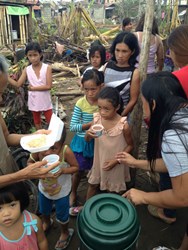 Both the Foundation and our distributor field felt compelled to provide assistance any way we could in response to this tragedy.
Chesterfield, MO (PRWEB) December 09, 2013
The Reliv Kalogris Foundation (RKF) today announced that it has donated $576,000 in nutritional products and $25,000 in cash to support Typhoon Haiyan relief efforts in the Philippines. Cash donations were provided by Reliv distributors through a special fundraising campaign in November.
"We have a special connection to the Philippines," said Reliv Kalogris Foundation Chairman Scott Montgomery. "Not only is it one of Reliv's 15 countries of operation, it is also home to 100+ Reliv Kalogris Foundation feeding programs that provide quality nutrition to thousands of needy children every day. Both the Foundation and our distributor field felt compelled to provide assistance any way we could in response to this tragedy."
The RKF shipped 1,500 cases of Reliv Now® for Kids, Reliv's daily nutritional supplement for optimal children's health, to affected areas following the typhoon. Half of that nutritional aid has already been distributed.
Cash donations are being used to provide clean drinking water and reusable cups to prepare and distribute Reliv nutrition shakes at various evacuation centers. Resources are also being directed toward mosquito nets, building supplies and food packs to families in areas hardest hit. The RKF has once again partnered with international relief agencies, as it did following the 2010 Haiti earthquake, to facilitate distribution of support and reach a larger number of people.
"Many Reliv distributors have been directly affected by this tragedy, and we are reaching out to them as we support general relief efforts," Montgomery said. "I am especially proud of our staff and distributor field in the Philippines who have stepped up in the face of serious challenges to aid in the recovery firsthand. Our thoughts and prayers remain with the people of the Philippines."
About Reliv International, Inc.
Reliv International, based in Chesterfield, Mo., produces nutritional supplements that promote optimal nutrition along with premium skincare products. Reliv supplements address essential nutrition, weight loss, athletic performance, digestive health, women's health, anti-aging and healthy energy. Reliv is the exclusive provider of LunaRich® products, which optimize levels of lunasin, the peptide behind many of soy's health benefits. The company sells its products through an international network marketing system of independent distributors in 15 countries. Learn more about Reliv at http://www.reliv.com, or on Facebook, Twitter or YouTube.
About the Reliv Kalogris Foundation
The Reliv Kalogris Foundation is named for the late Dr. Theodore "Ted" Kalogris, who created the nutritional formula that would become Reliv International's first product. The foundation, founded in 1995, today provides free nutritional supplements daily to more than 42,000 malnourished people in nine countries.